The latest Sting Special Price Spanking Video is
Approved Education – Cut Through The Smoke
Starring Justin Kingsley, Aril Varga and Marco
HD Only $14.99
Standard only $10.99
The daily administration of discipline continues unabated at Bishopsfield Institution, a government Approved Educational centre. The young lads inside need constant guidance and good results aren't expected but demanded in their retraining.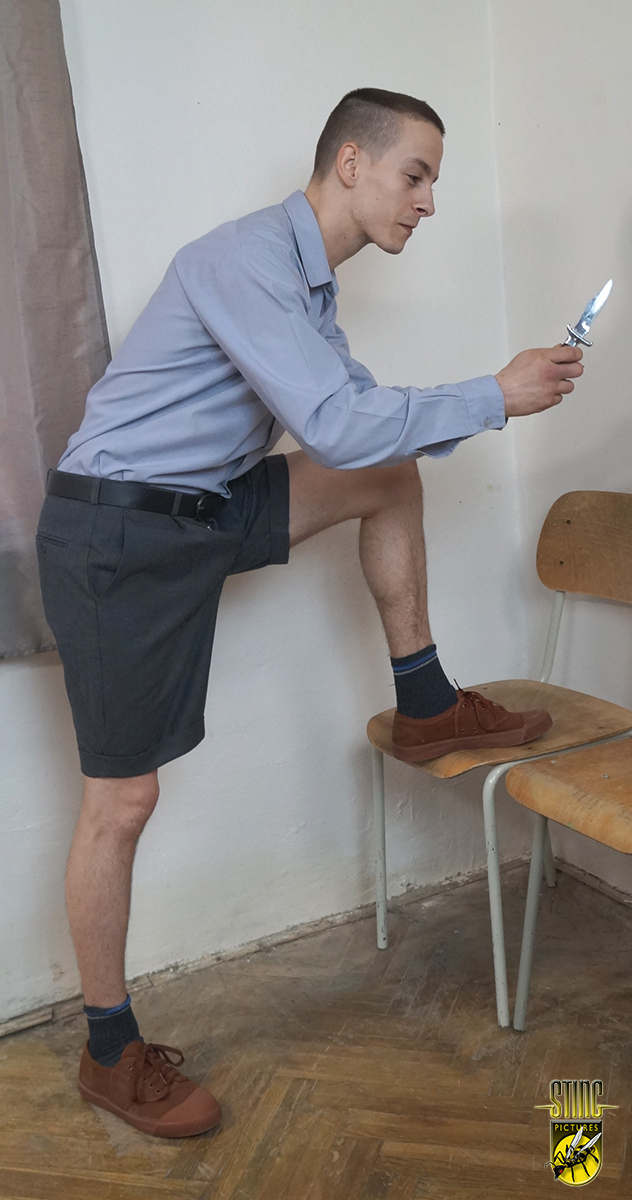 In the latest episode of bad behaviour two lads, Rodgers (Justin Kingsley – above) and Ronson (Ariel Varga) are both up in front of the House master.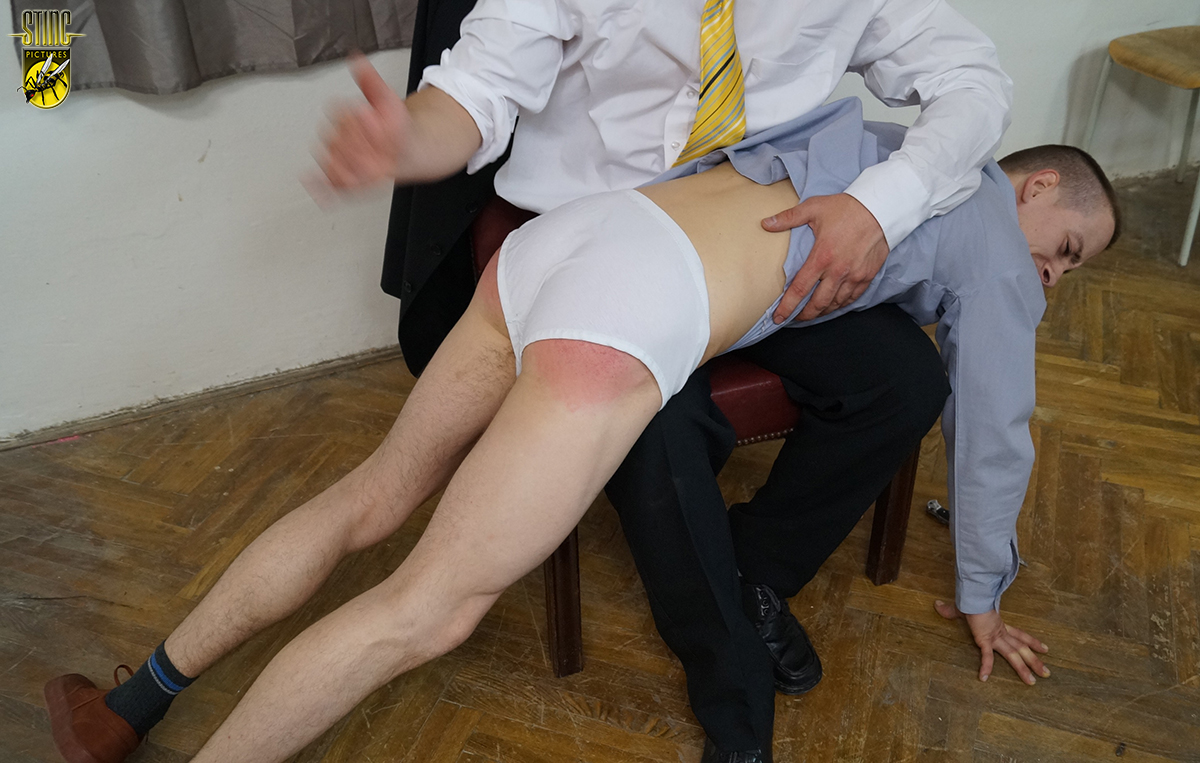 Some items are just not acceptable in many situations let alone at Bishopsfield and Mr Sharp (Marco) makes this point very clear indeed. With no delay Mr Sharp takes Rogers over his knee and gets straight into a good spanking on his underwear.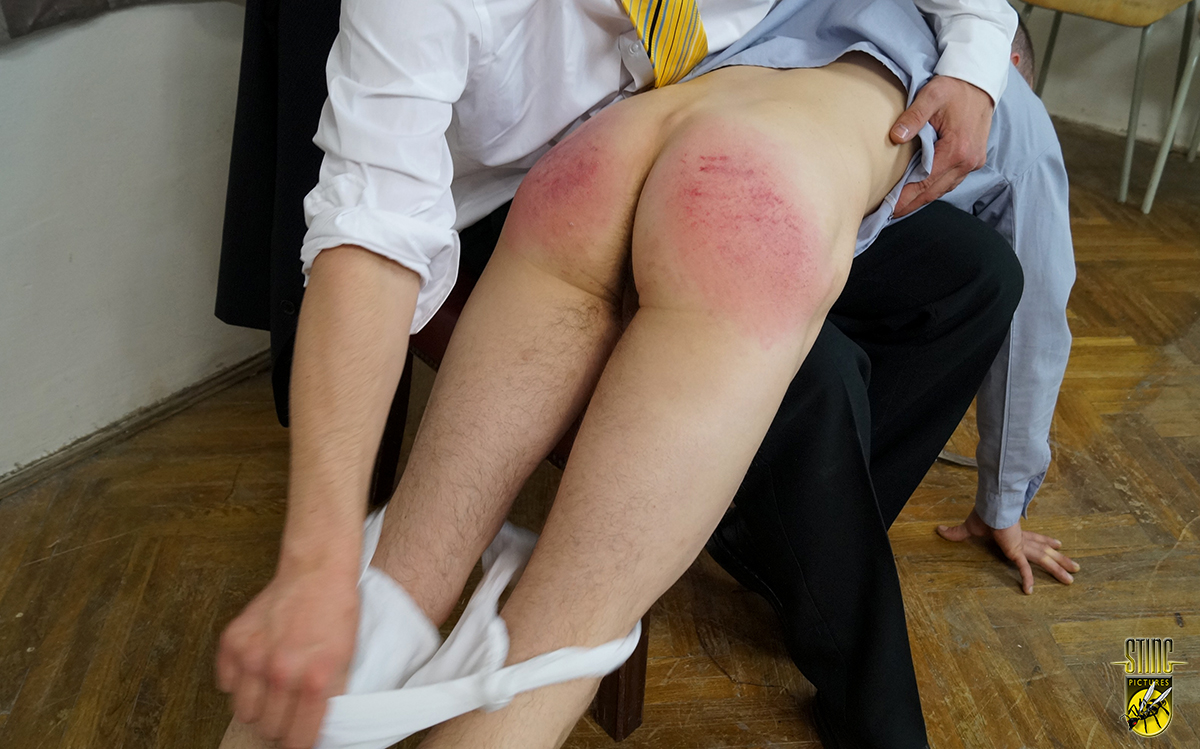 The searing heat from the hard hand being bought down on his butt soon starts to show under his pants. Lifted up Mr sharp pulls Rogers pants down and continues his perfect lesson in why it is not acceptable and intensifies his punishment with a good rapid fire spanking to complete.
*
Click on the Read More tab below to see more
*
______________________
Of course Mr Sharp is not satisfied and orders Rogers to remove his shirt and puts him over a chair and a firm crack of the strap starts the next part of his lesson. As his butt reddens Rogers is clearly feeling sorry for himself as the strap continues to burn more and more with each hit!
Ronson however thought he would get away with cigarettes you would think after all this time young lads might have got the message by now but no it would seem they just don't learn, so Ronson Too will soon have a sore bottom
Mr Sharp has decided to make sure this delinquent does learn starting with a damn hard spanking. Already in pain he pulls down Ronsons pants revealing an already scorched butt and without hesitation continues his relentless spanking cummilating with a rapid fire for good measure.

Standing waiting by the wall Ronson is ordered to remove his clothes. Hands placed on the chair nervous as Mr Sharp flexes the trusty cane in the air with a whoosh that fills Ronson with absolute dread. Eager for the cane to cut across Ronsons Butt the first thwack re awakens all the nerve endings in Ronsons bare butt! Thirty five cuts follow each one sending the message home that smoking is just not allowed as Mr sharp cuts through the smoke!
Links
*

Approved Education – Cut Through The Smoke – in 1080p Extra High Definition
*

Approved Education – Cut Through The Smoke – in Standard Definition
*
This video is also available through Sting at Clips4Sale for customers who wish to use an alternative processor.