The latest Sting Special Price Spanking Classic Compilation is
Scouting For Trouble Parts 1, 2 & 3
ONLY $19.99 Normal Combined price $52.85
The films in this three video compilation are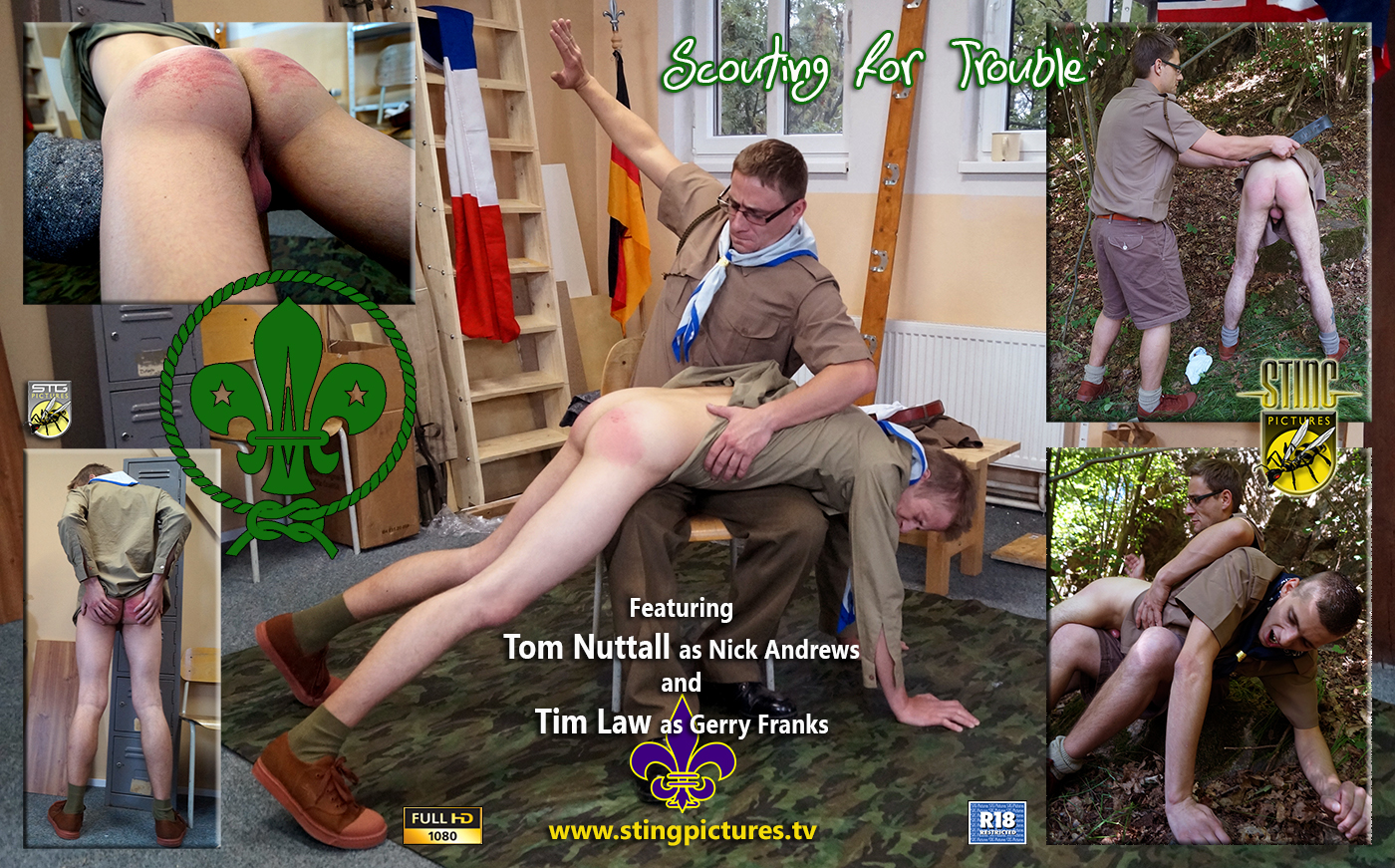 SCOUTING FOR TROUBLE

Be prepared to discipline unruly scouts has to be the motto of Leader Mr Sharpe. He has his hands full to keep the lads in order but knows how to effectively treat bad behaviour and reset the moral compass of his charges.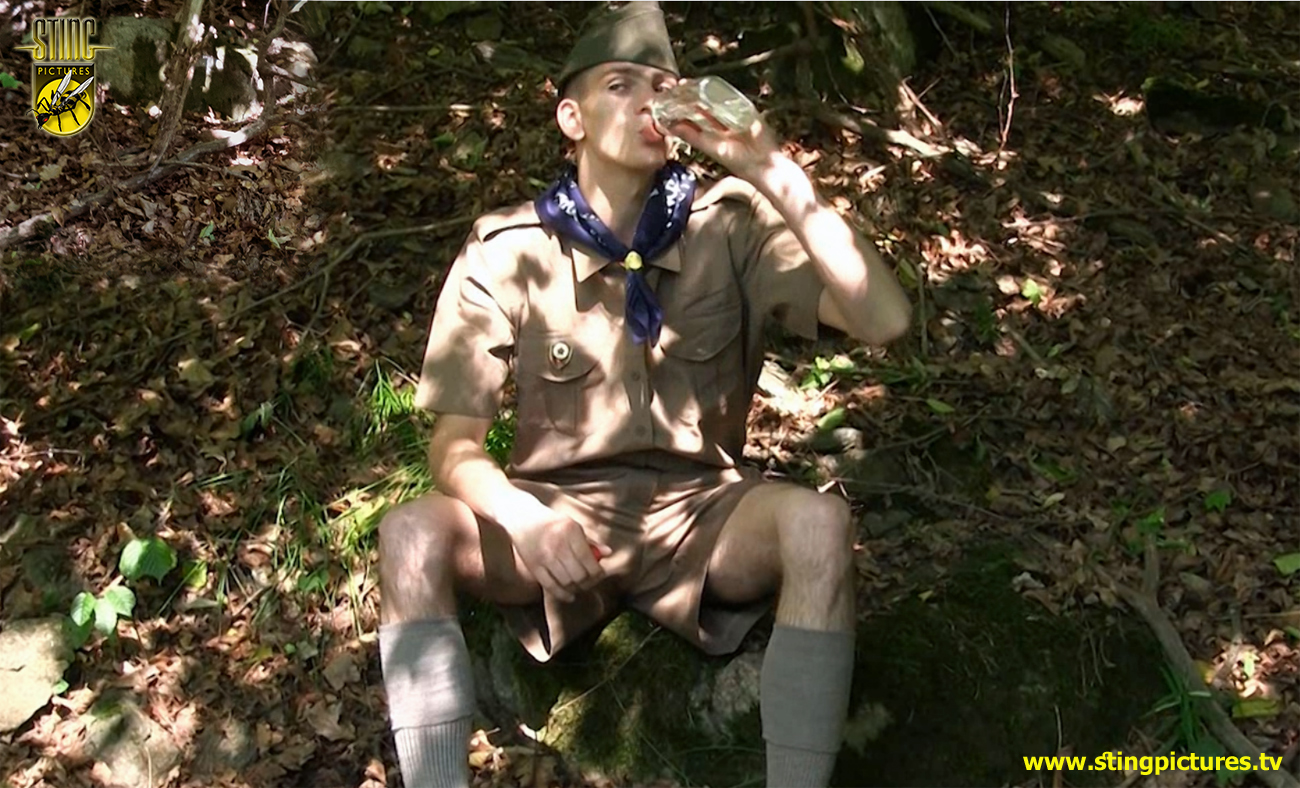 On a recent camping trip Gerry Franks (Tim Law) decides on a self planned hiking trip backed up by a bottle of vodka, to keep out the cold of course! Inevitably he is soon missed and a search of the local area is made.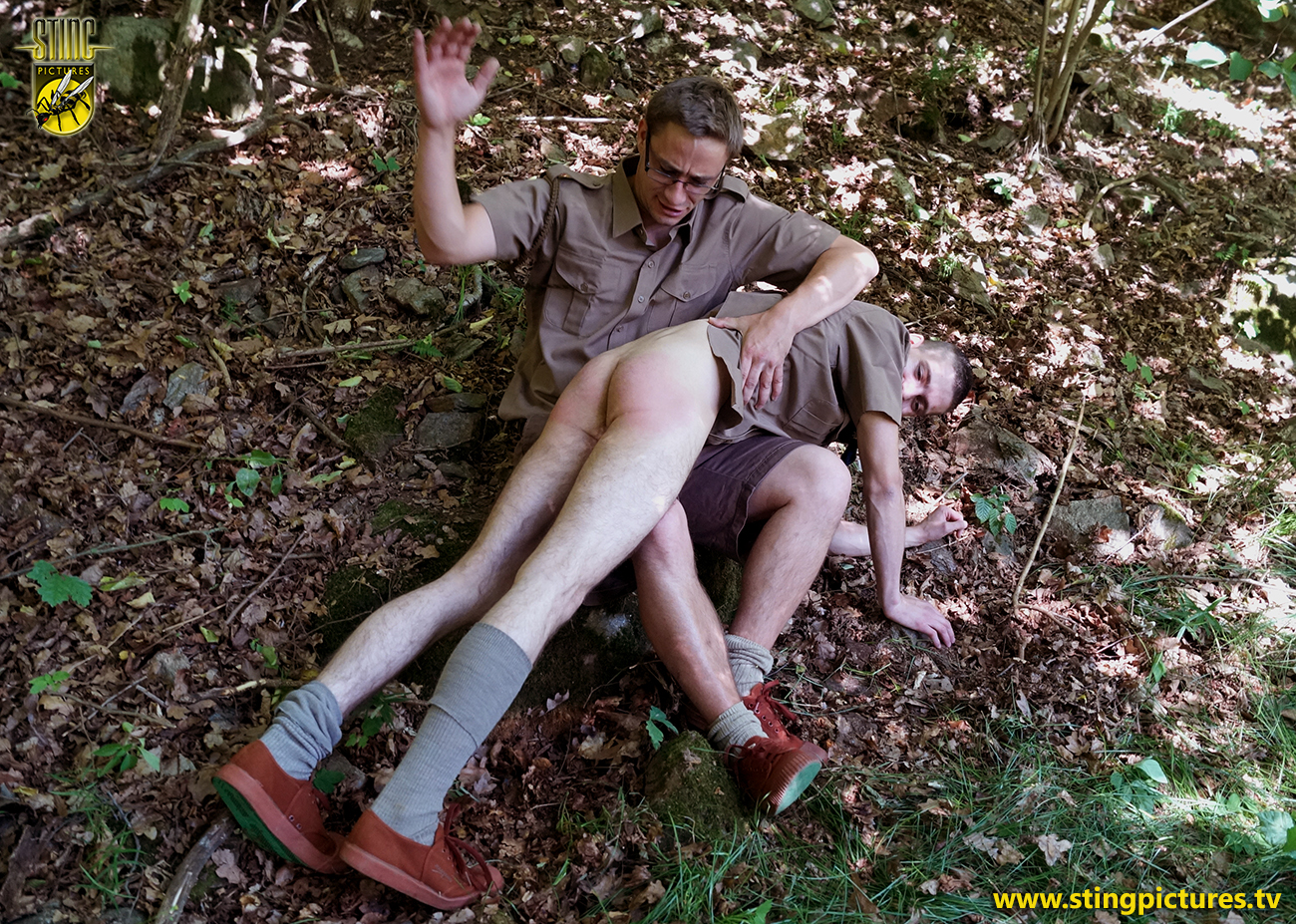 Eventually the now very drunk the lad is soon discovered by Mr Sharp. Time for some corrective ction. There and then in the forest Gerry is taken over the leader's knee and a sound time honoured spanking laid on. This has a very sobering effect but it's the scorching strap that will finish off the discipline.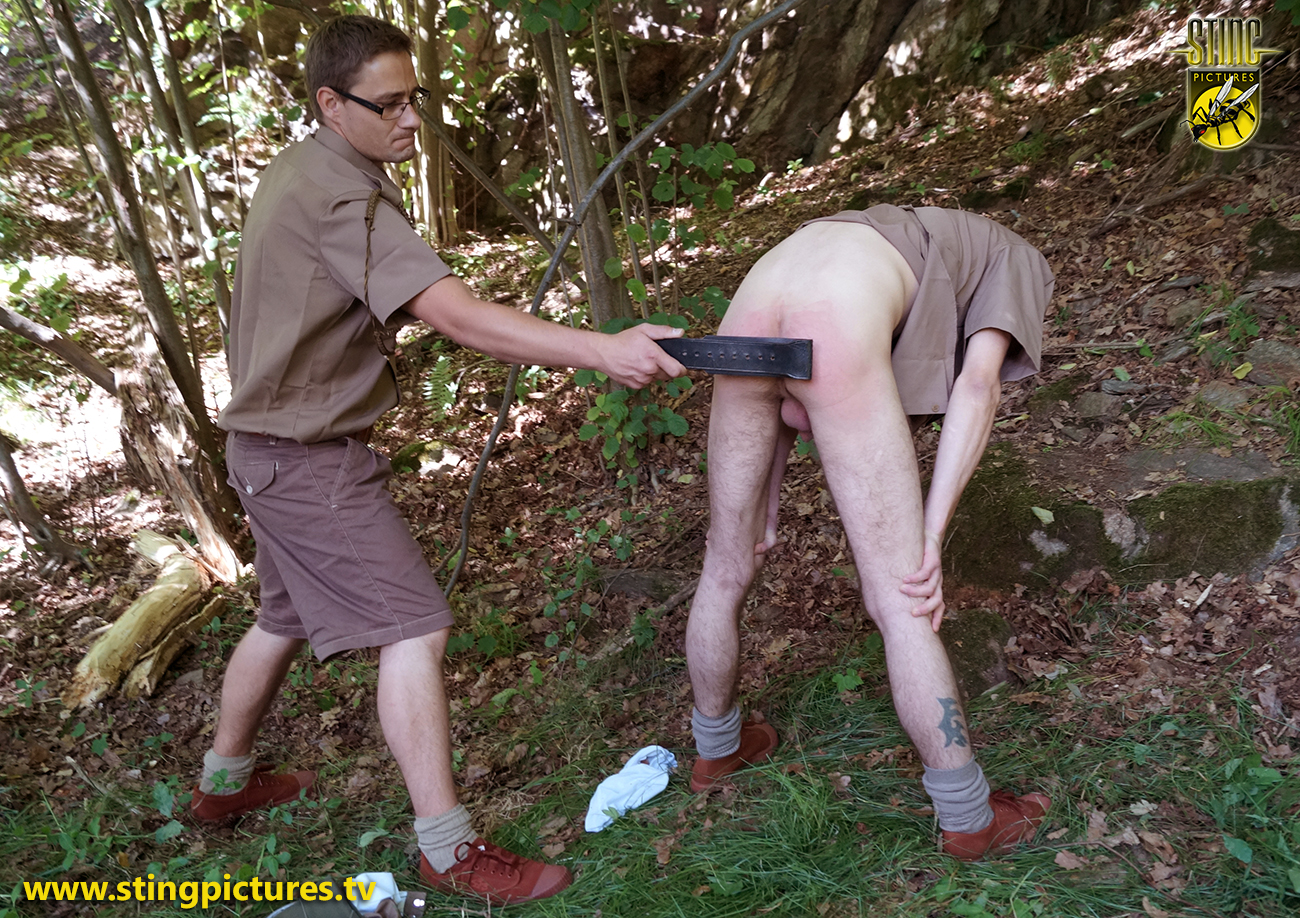 Bending over, sore bottom thrust out, the wildlife can secretly watch as the crack of the stinging strap echoes round the trees.
*
Click on the Read More tab below to see more
*
______________________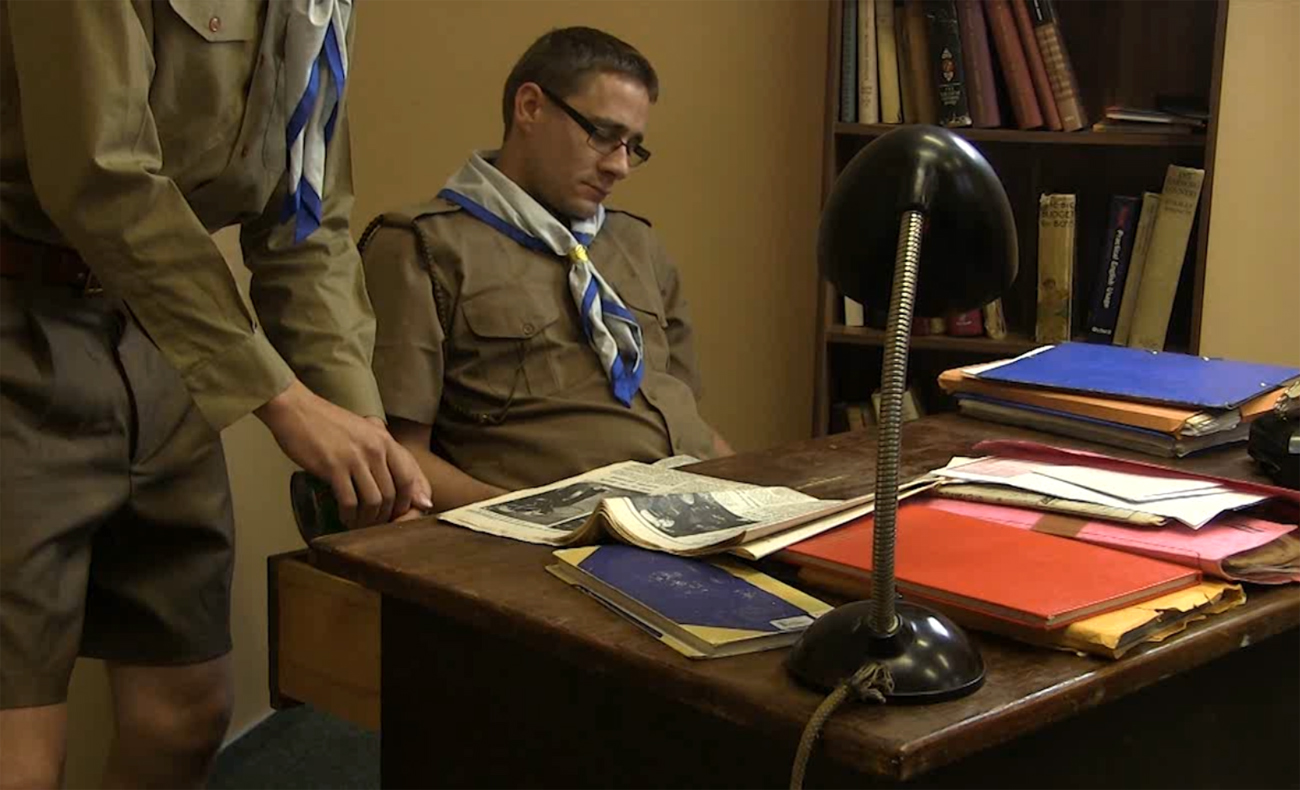 Back at the centre another eagle eyed lad Nick Andrews (Tom Nuttall) creeps silently into the Leaders office. His objective is to 'borrow' some funds from the cash tin.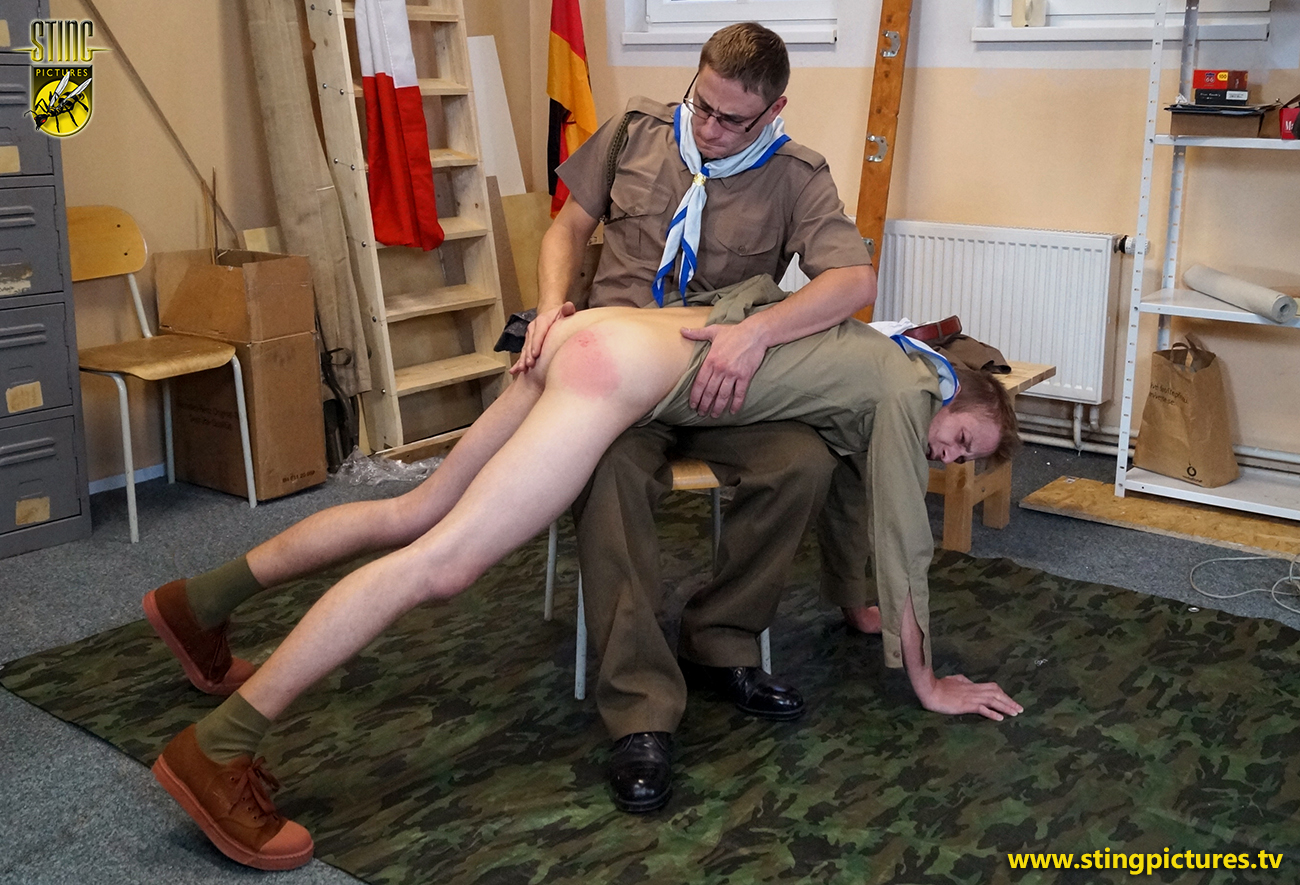 He is soon caught out and taken to the craft area to be shown the error of his ways. The brown shorts and white Y fronts are soon down and Nick is feeling the heavy hand of his Leader. Smack after smack on his raised smooth rounded bare bottom leave a reddening array of pain. However Mr Sharpe's short brown whippy riding crop is very capable of livening up an already spanked backside.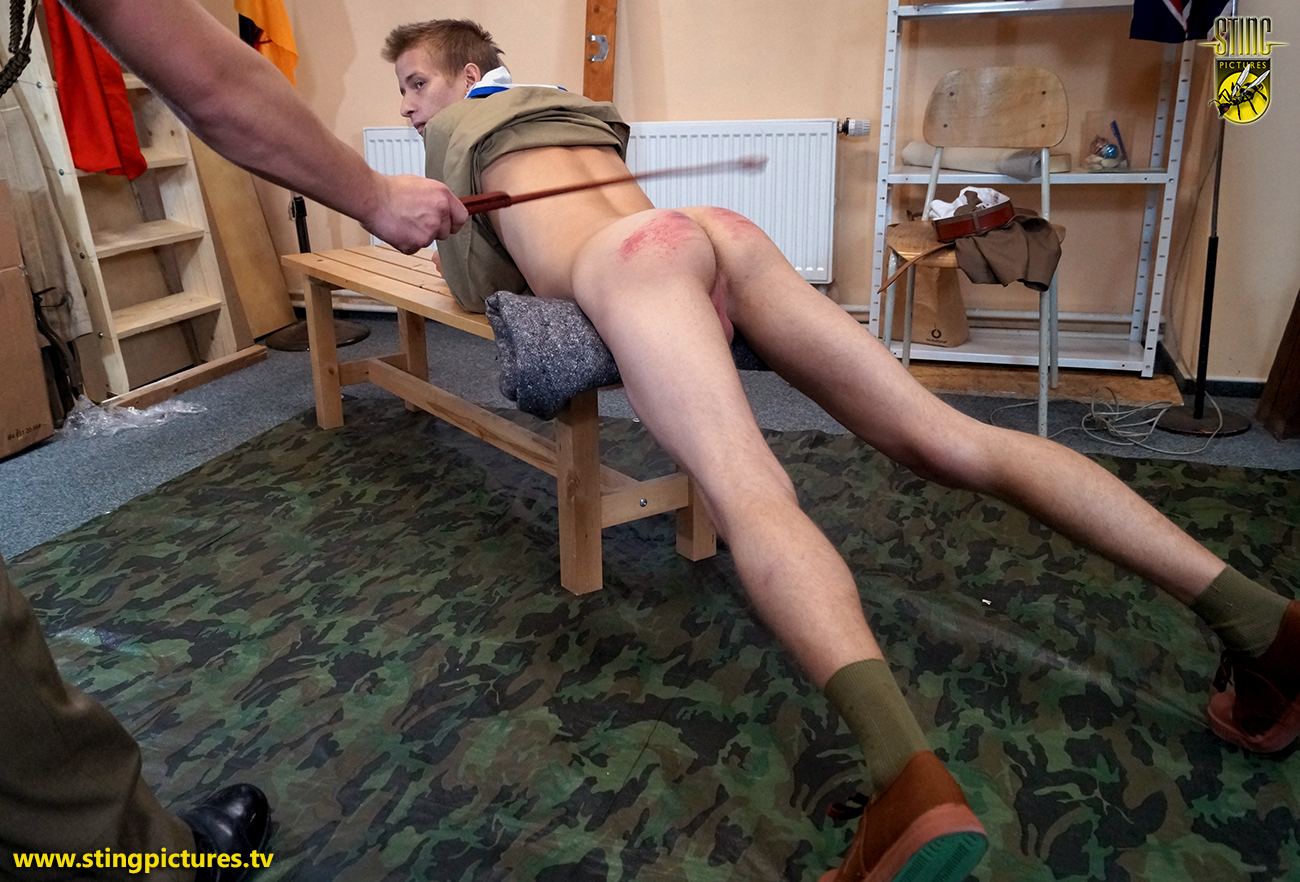 With the boy face down across a bench its burning stripes will set young Andrews on the right path!
*************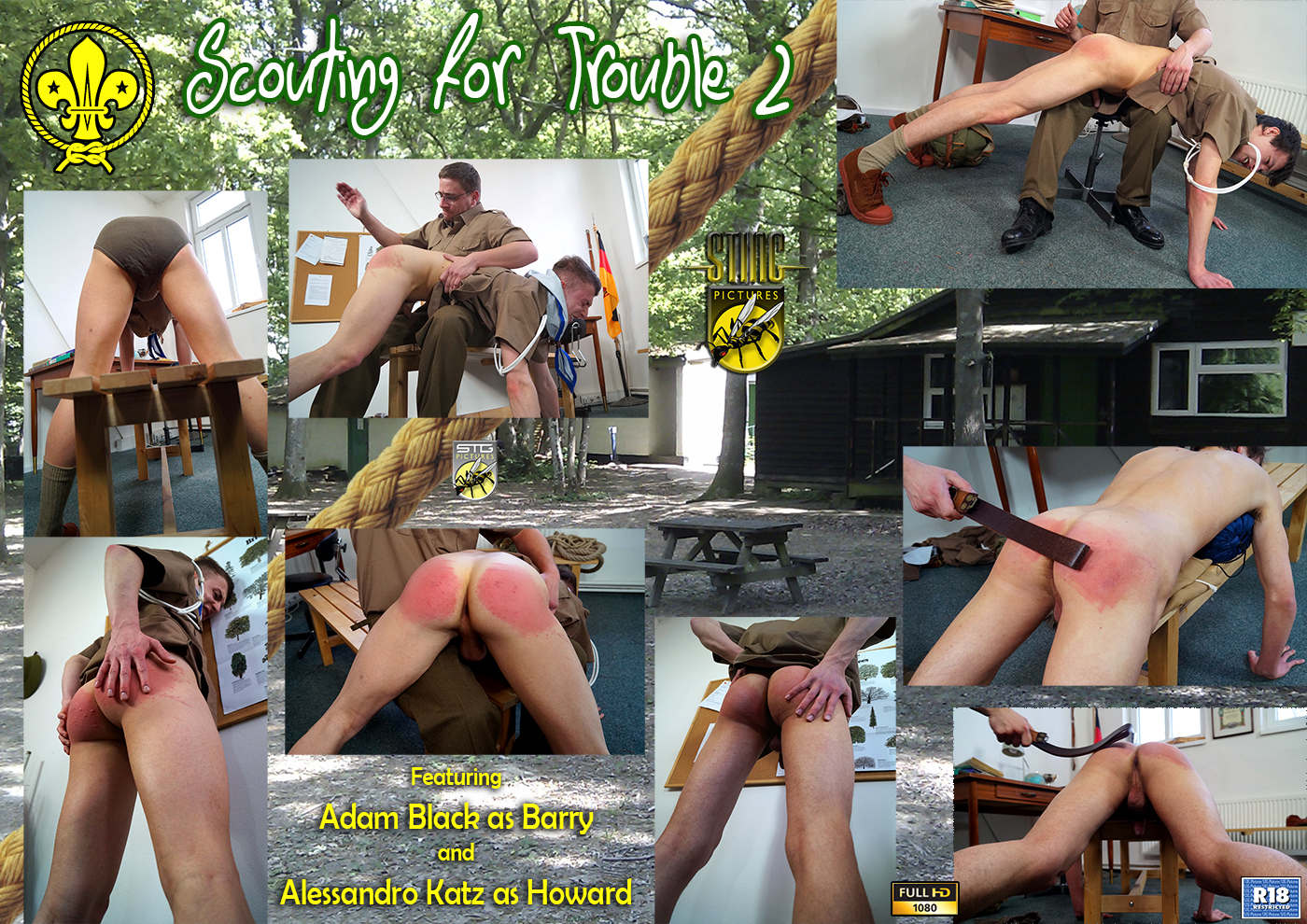 SCOUTING FOR TROUBLE 2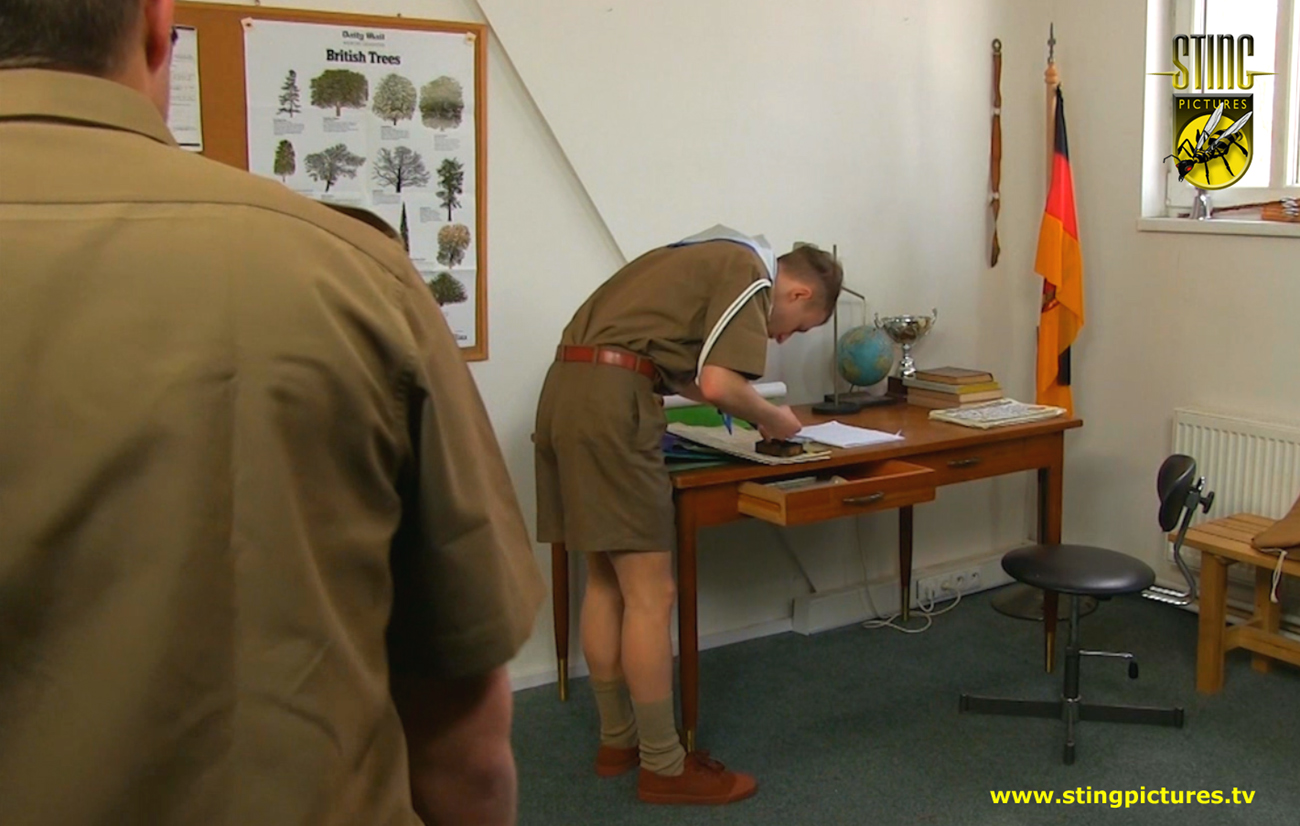 The scout hall is deserted and senior scout Barry (Adam Black) decides to have a snoop around. He's looking for more than just a bob a job, he's looking for the petty cash tin and he finds it in the Scoutmasters desk drawer. What he hadn't noticed was the Scoutmaster stealthy moving in on him to catch him in the act, which is exactly what he does!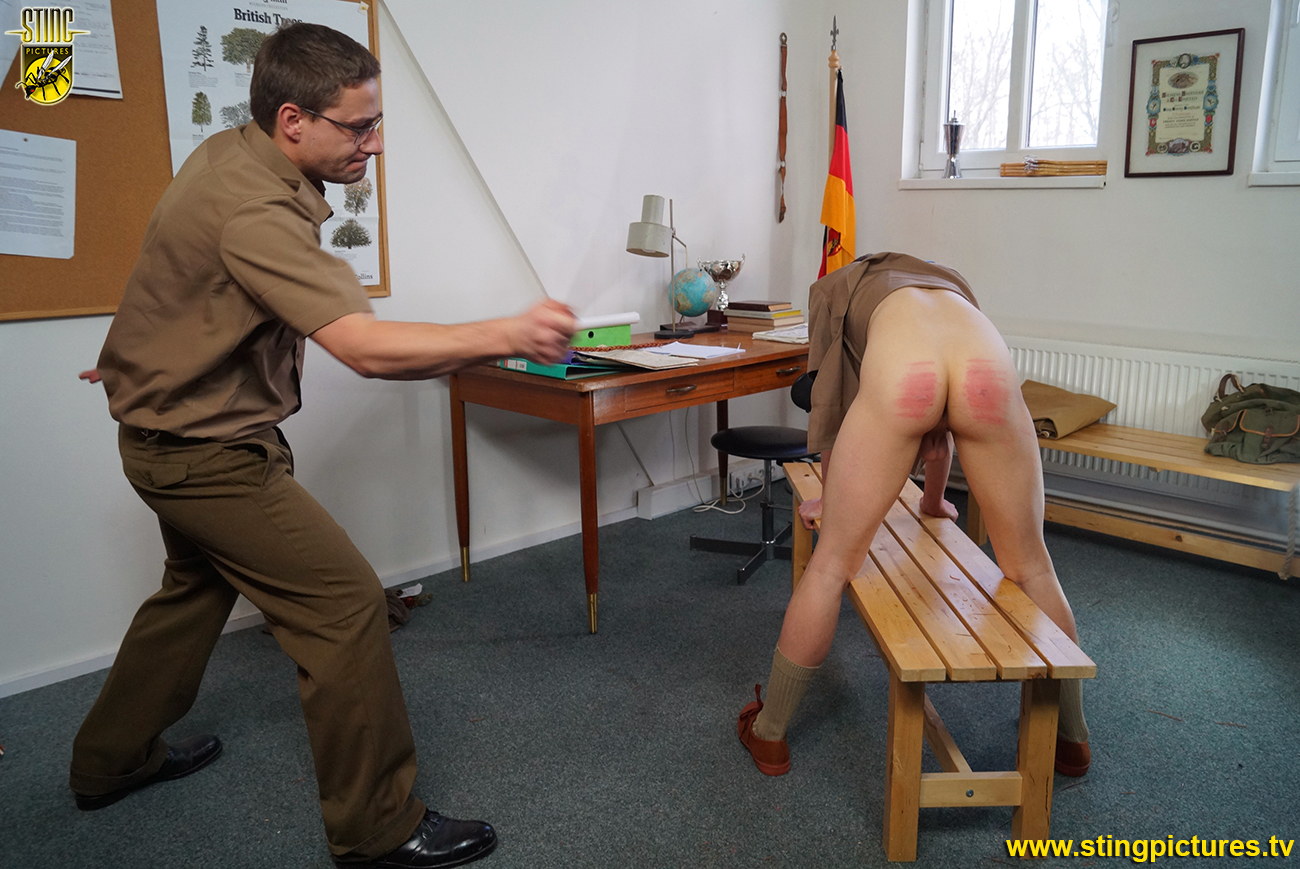 Determined to teach the lad a lesson the Scoutmaster grabs an old Pomlazka, a bunch of willow twigs bound together usually reserved for an Easter time folklore ritual. He puts as many whacks as he can across the cheeky young scouts protruding backside before he realises it's not up to the job. Now the lads pants come down and a thin supple switch is brought to bear instead.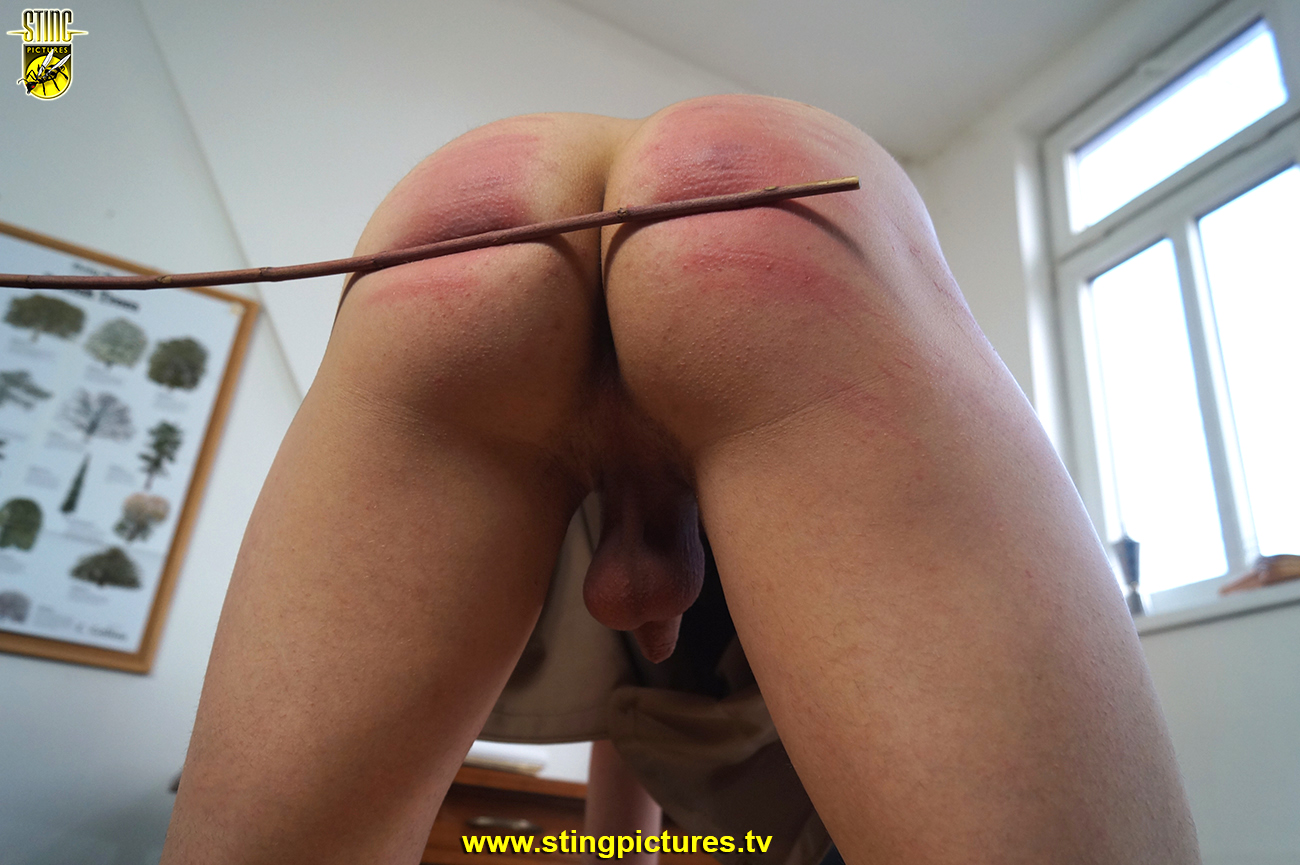 This thwippy stinger certainly makes an impact and leaves a series of burning stripes on the now howling lads' very rounded bare bottom.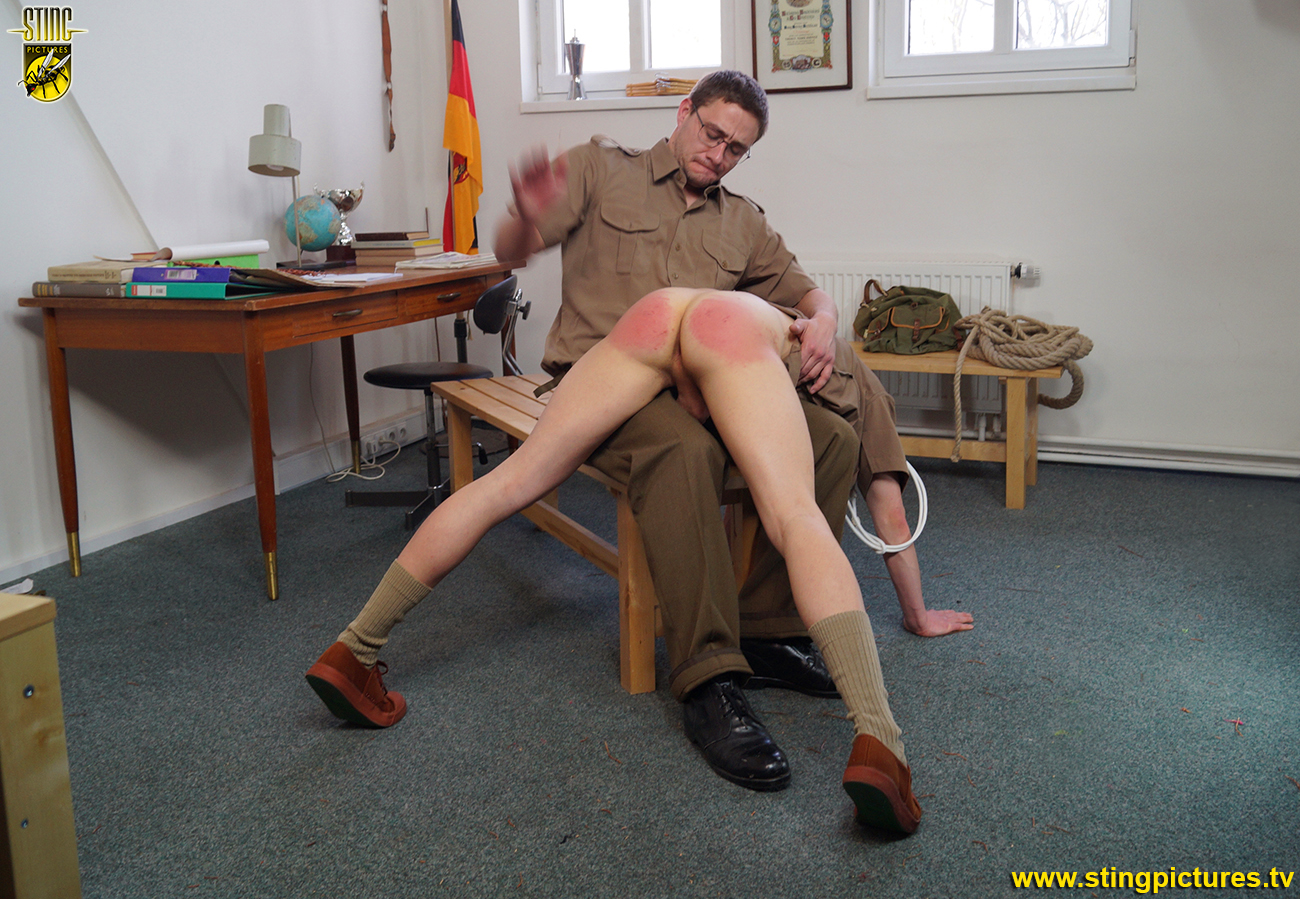 All that remains is to finish off with a good over the knee spanking. Barry, his bottom red and scorched, is certainly going to regret his reckless actions today!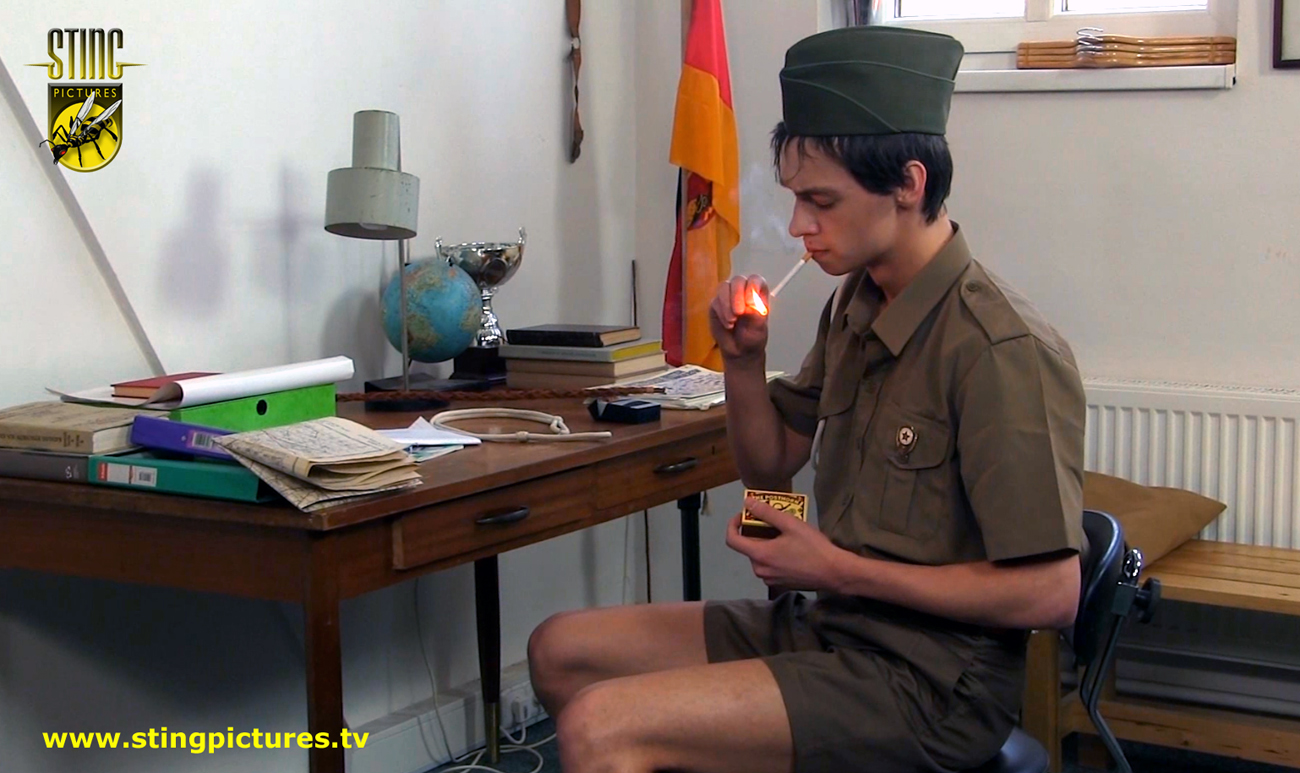 In another incident senior scout Howard (Alessandro Katz) has just arrived back in from an orienteering exercise. With the rest still out in the wilds he takes the opportunity to have a quick smoke even though, for the lads he knows, with the Scoutmaster its a big taboo . He's unlucky too and is puffing away as the Master walks back in! It may not have been so bad but Howard was smoking the Scoutmasters own cigarettes.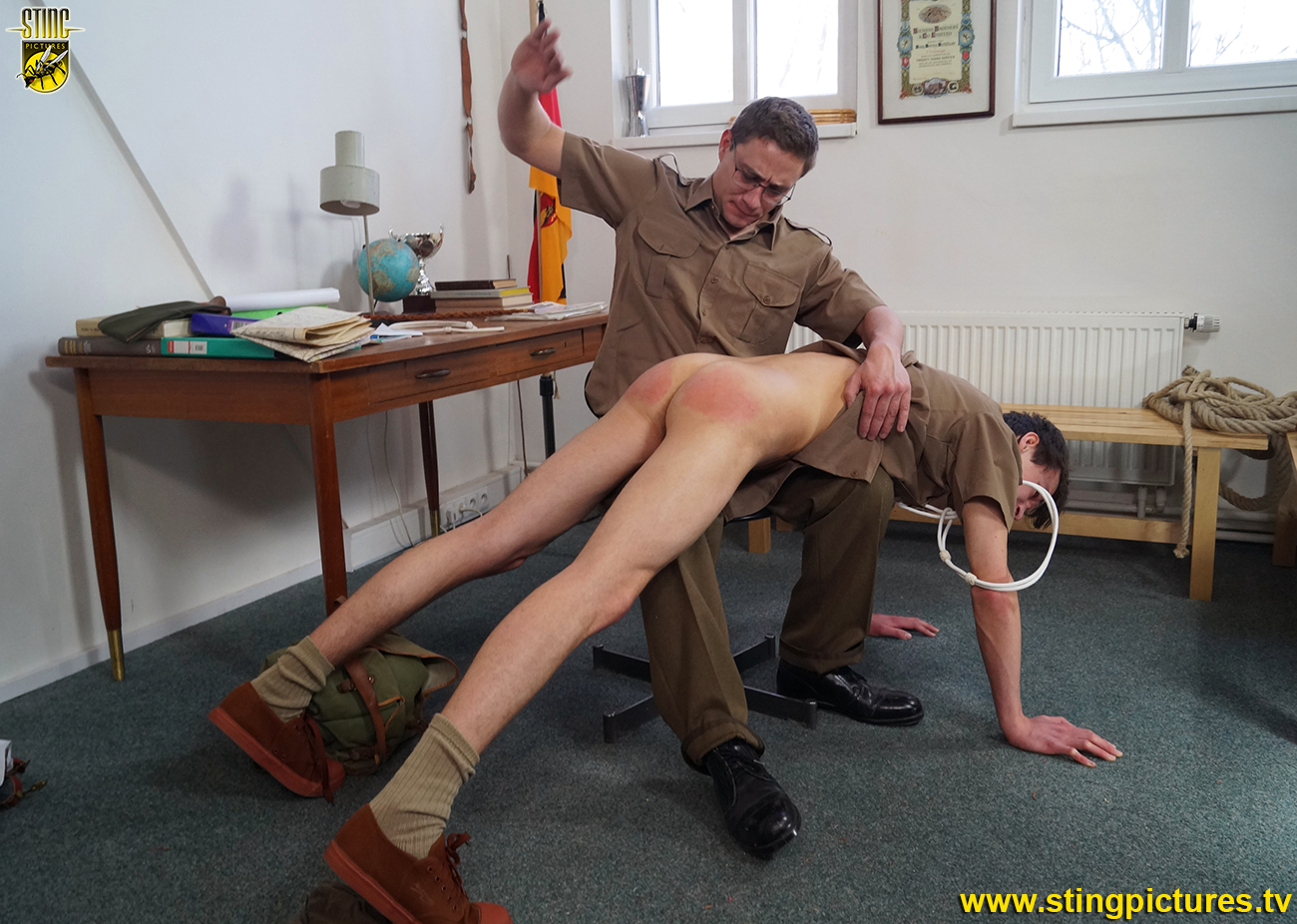 Now it's time to teach Howard a lesson in health and the lad soon finds himself drawn across the Masters knee! He'll receive sound spanking on his smooth little bare bottom but that will be just for starters!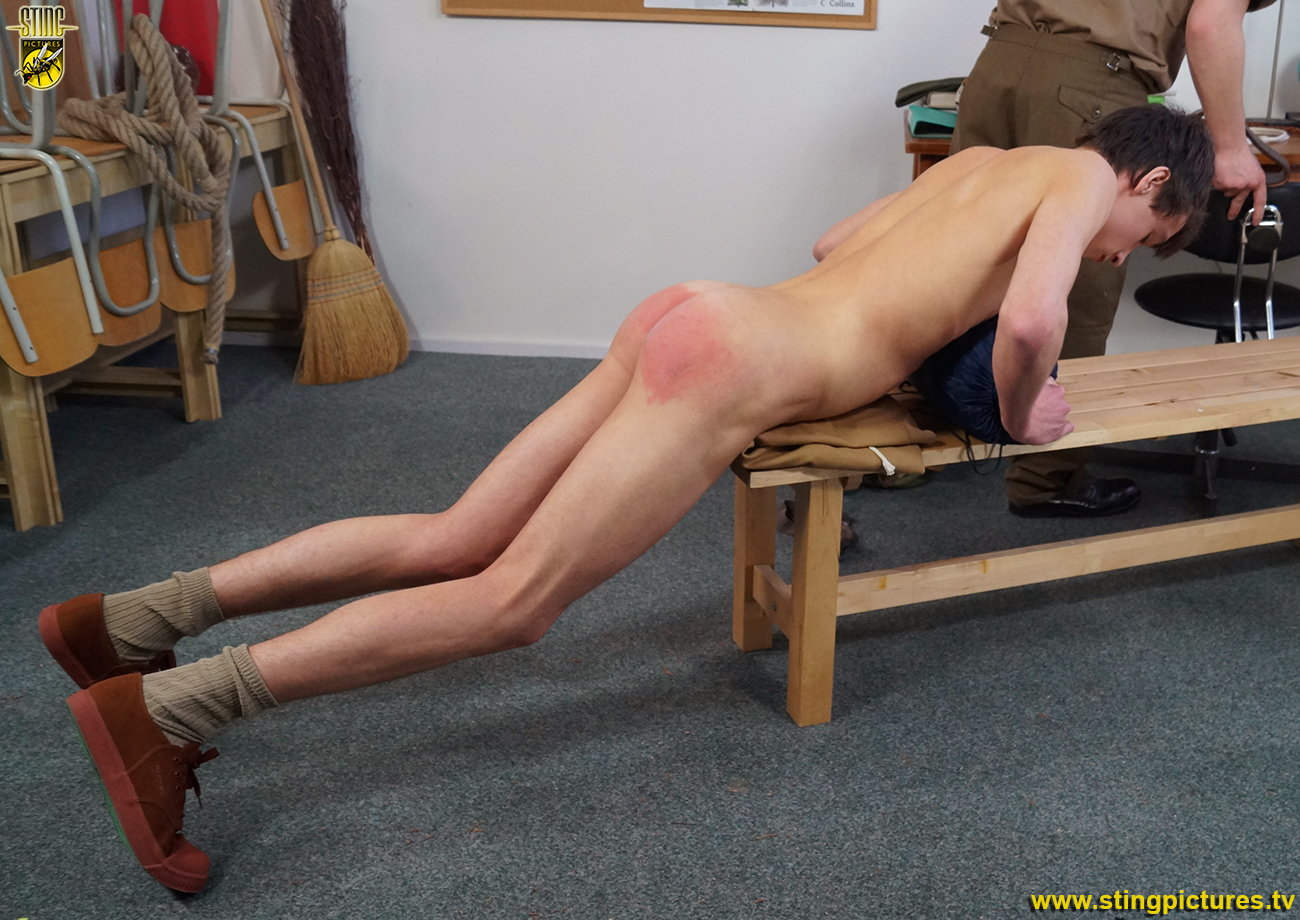 Next the bench with be drawn out and laying face down Howard can expect to feel some real bands of fiery pain from the Scout leaders heavy old brown leather belt!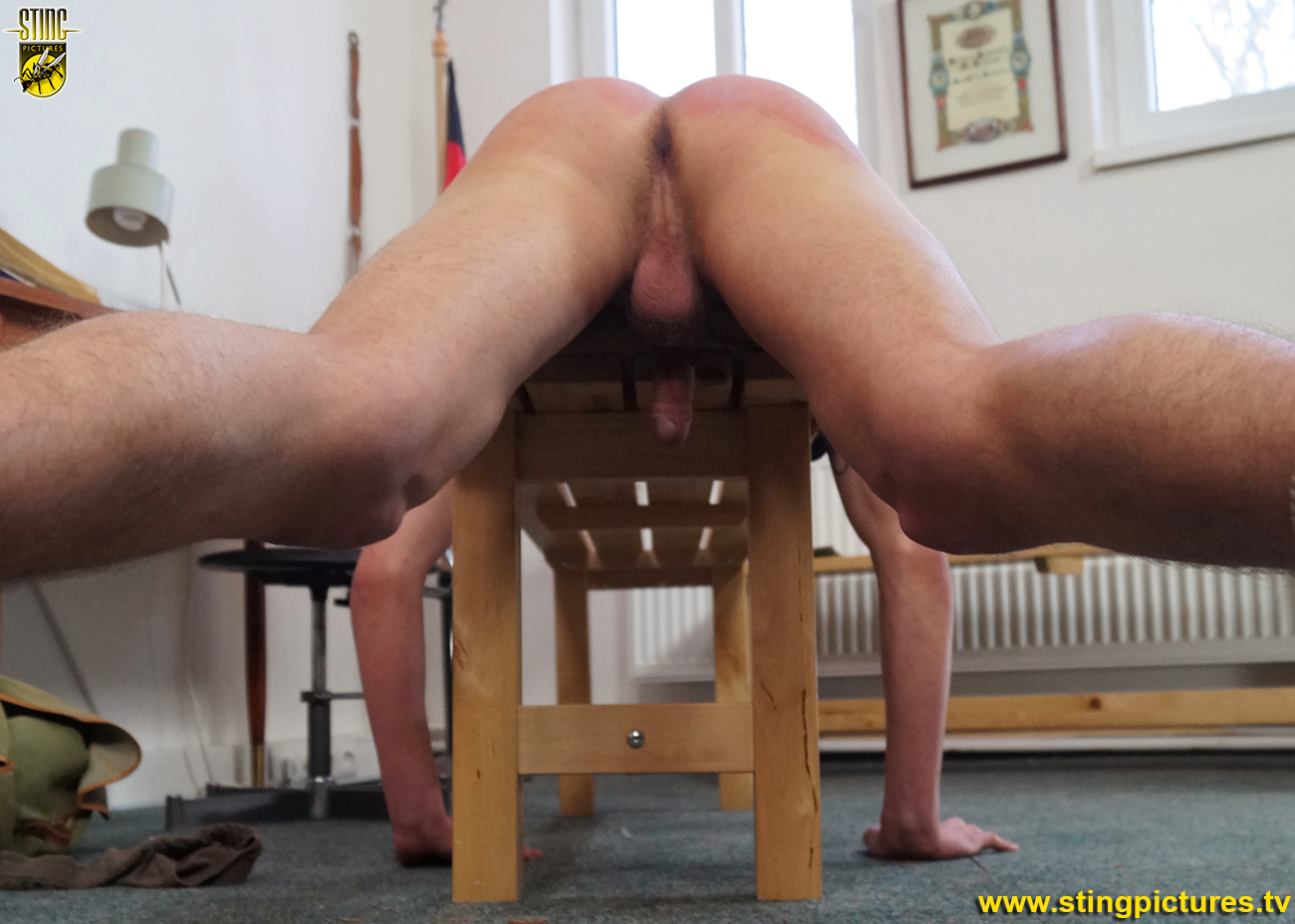 ************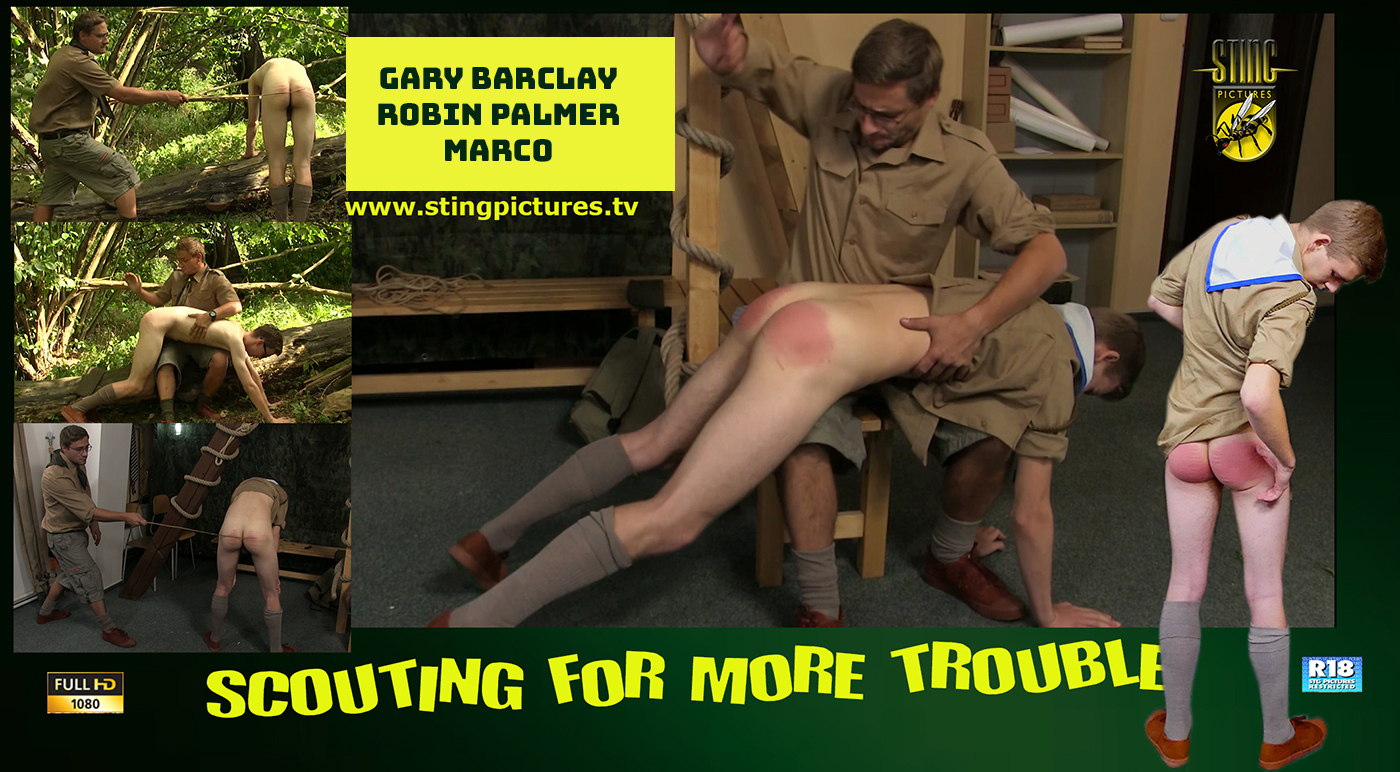 SCOUTING FOR MORE TROUBLE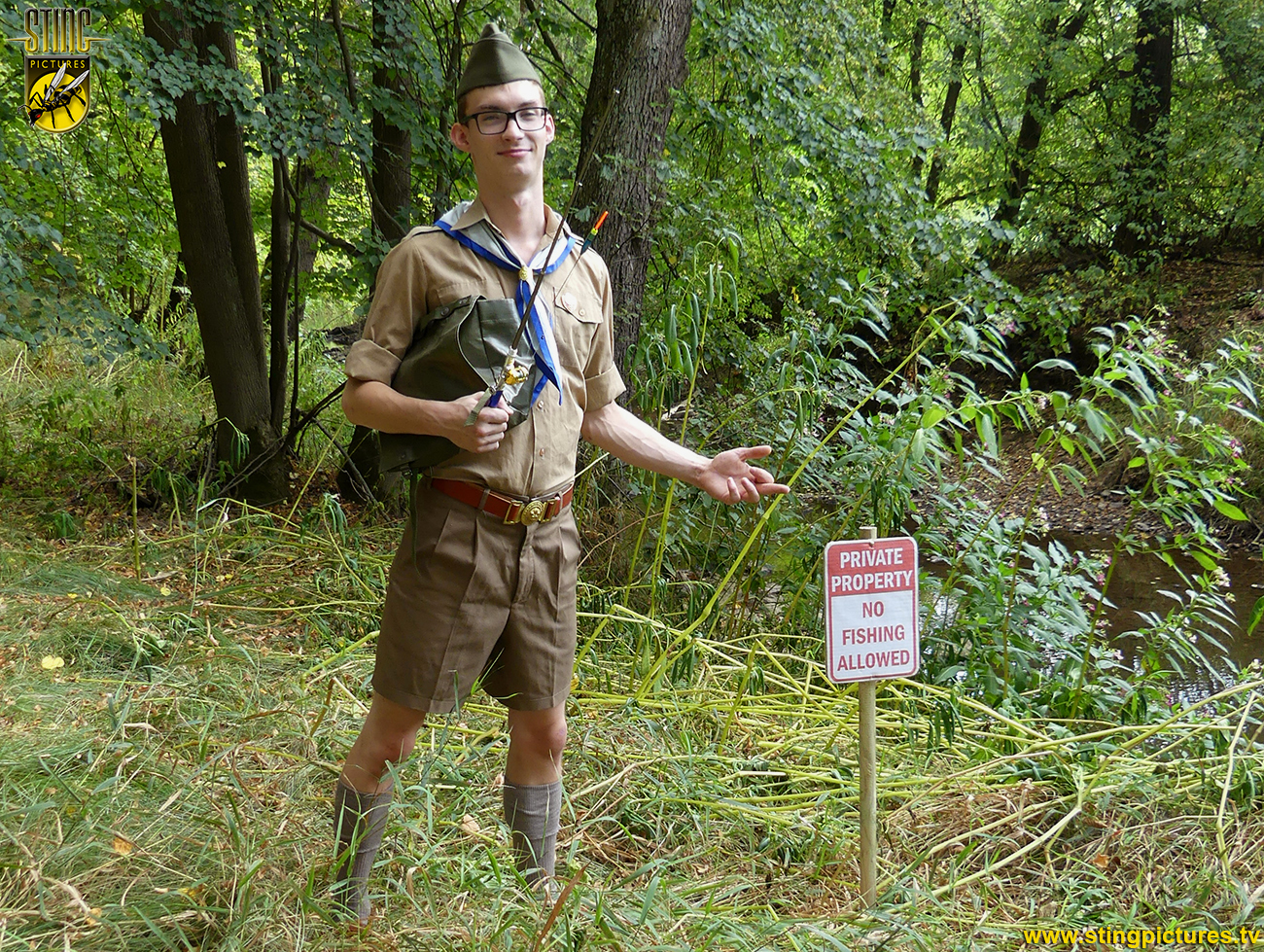 Trying to be a good scout isn't always easy, we all get attempted, so it was for two scouts from the STG pack. They both knew that to go fishing in the local river you had to have a licence. Even after being told, it wasn't long before their leader found out they hadn't got one and he knew exactly how to deal with them.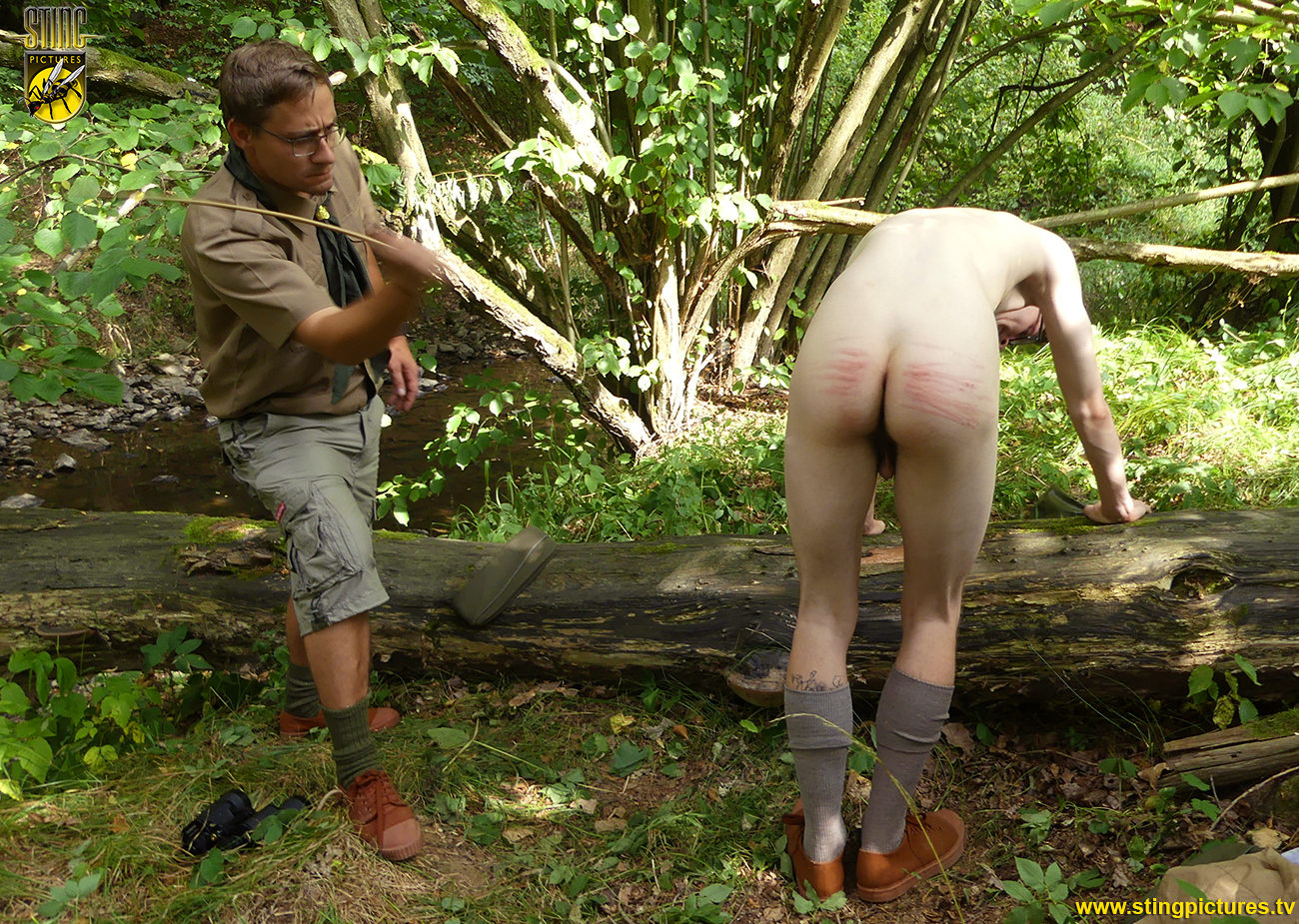 The two intrepid hunters are played by Gary Barclay and Robin Palmer with their strict leader played by Marco. As punishment for not having a licence he sends the first boy to cut his own switch.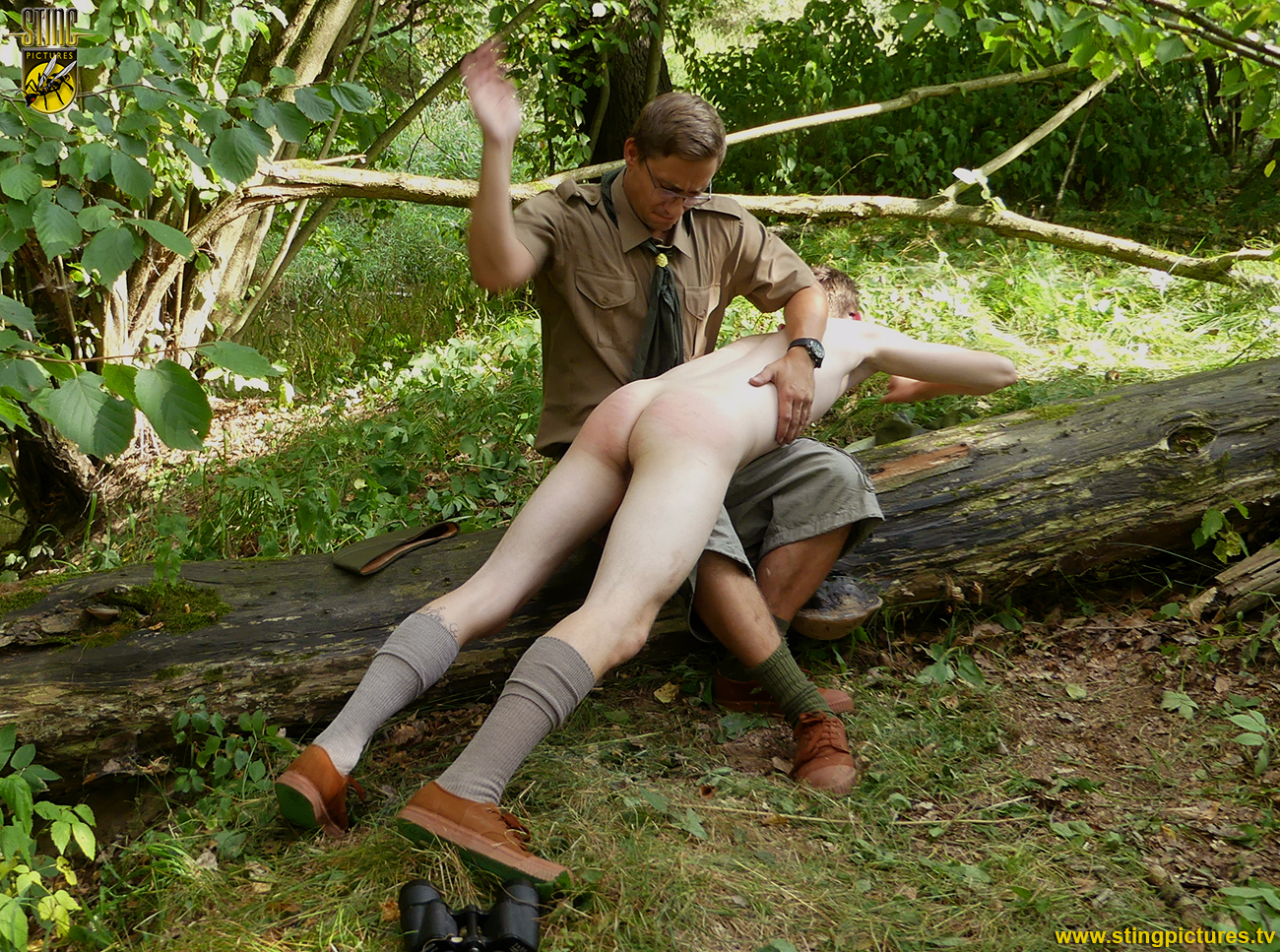 A few stinging stripes with this and a good spanking by the river will make him remember to get a licence in future.

Whilst in the woods the leader also remembers he'll have to deal with the other boy the next day, so a second switch is cut in redness.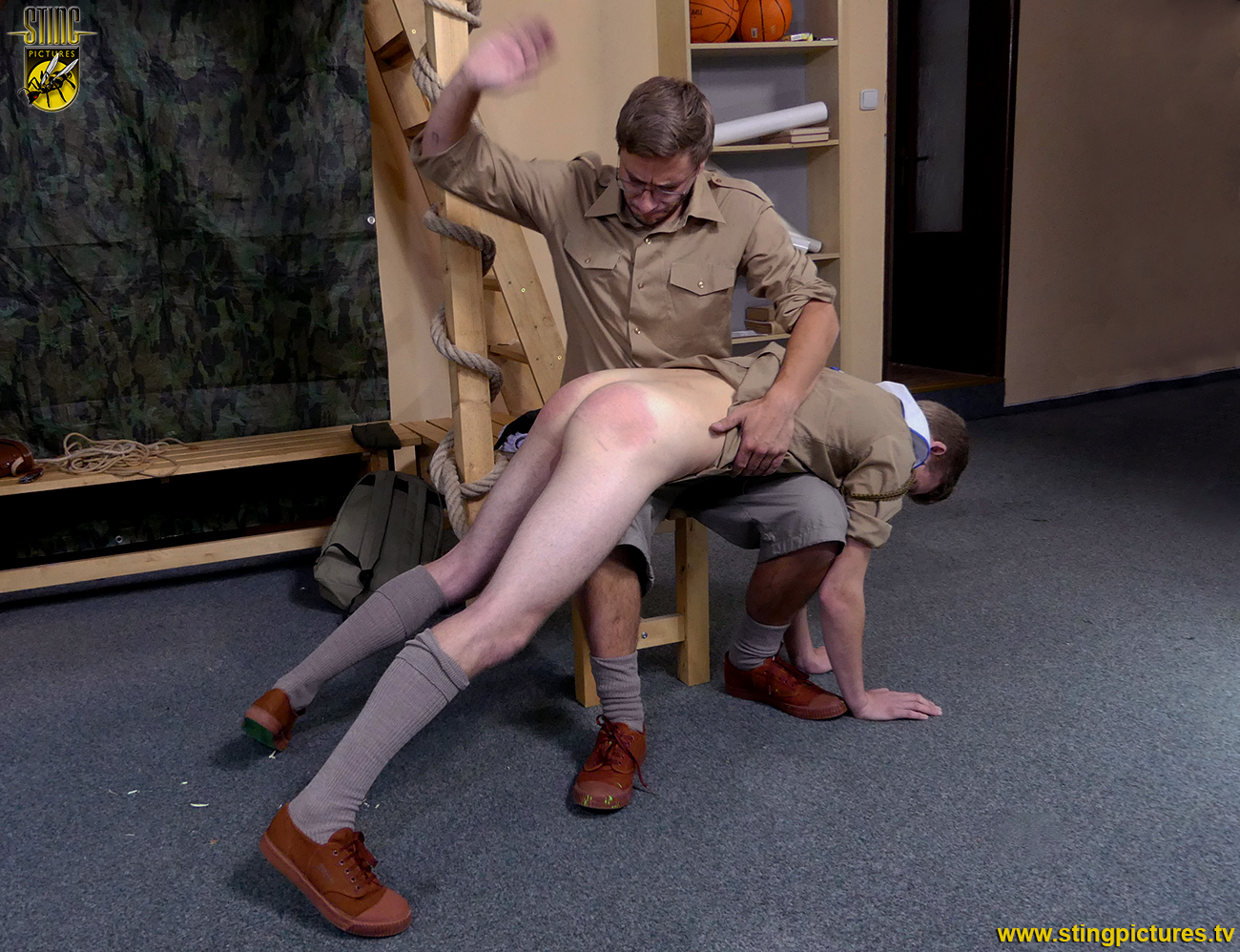 A spanking on the bare bottom especially over a recent burning switching is the quickest war to get a cocky scout's attention. This formidable leader easily does that!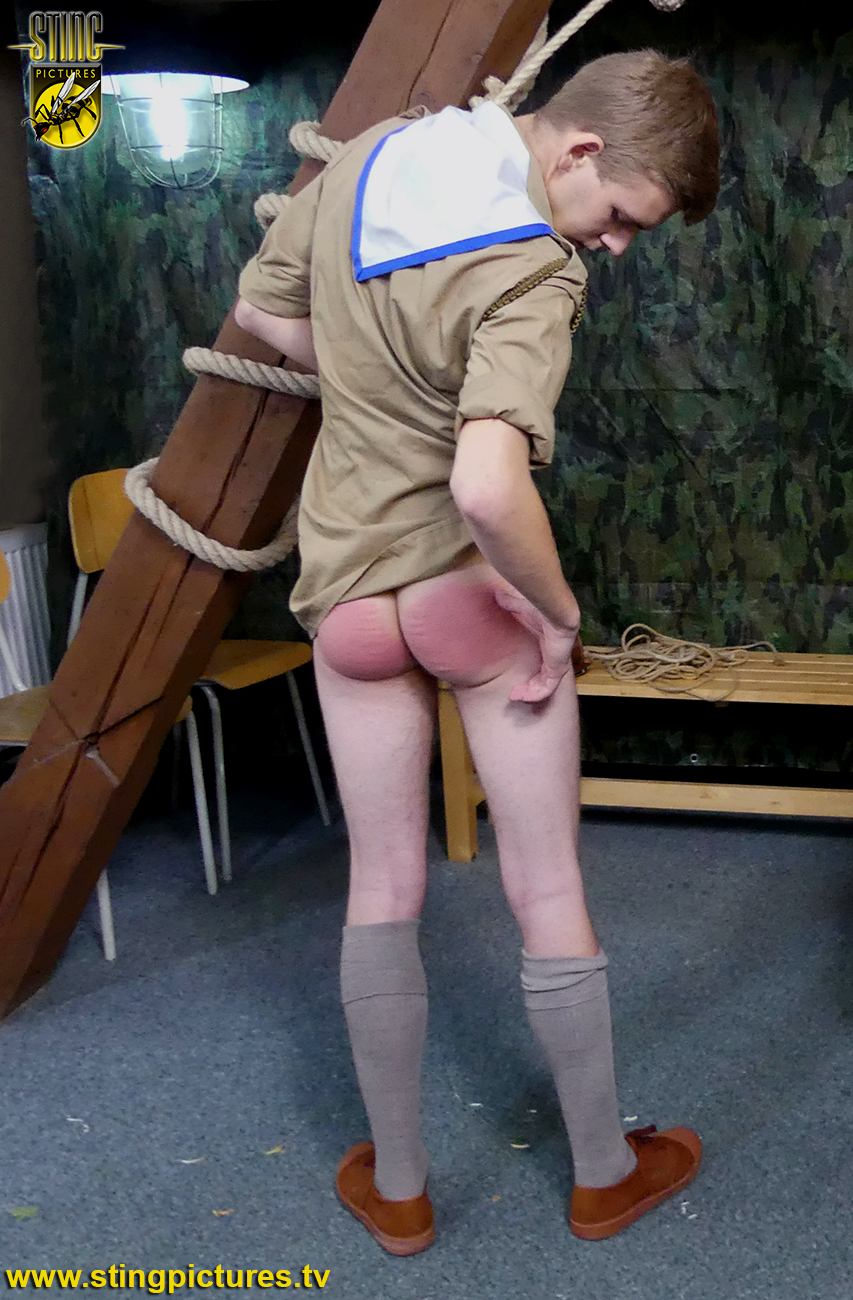 Scouting for trouble can result in a very sore bottom
Links
*
+++++
This video is also available through Sting at Clips4Sale for customers who wish to use an alternative processor.