Approved Education Part Two
is the sequel to Approved Education. Of the two, Part Two is by far the more ambitions, involving a large cast of both British and Czech boys, and, with a running tome of almost 40 minutes, involves a wide variety of exciting spanking scenarios.
The write up for AE2 explains the background and plot line "Approved schools in Britain first appeared in 1933. Unlike Borstal they were usually open institutions and young offenders sent to them would receive academic tuition as well as work activities. Styled like a school the uniform was usually plain grey. Many approved schools were known for their strict discipline culminating in the famous Court Lees affair in the 1960's where excessive discipline with the cane was cited. In this short feature we go back to those days of discipline and get an inside view of life at Court Leamington where the slipper, strap, tawes, cane and spanking echo round the walls. Featuring five strapping Sting lads including Brett, Stefanel, Brad, David and Barry the action is hot and the result is another retro classic for your collection."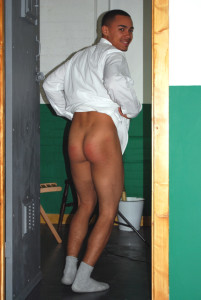 In this scene, the incorrigibly cute
Barry
, (who also appears today in
a posting at BMBW
) receives a bare bottom belting from his House Master after being caught fighting. As anyone who has seen this scene will attest, the master certainly knows how to use the strap, and Barry takes a large number of obviously very painful strokes, which eventually reduce the handsome lad to tears.
I have attempted to recreate this highly erotic scene below, with a mixture of screen grabs and high quality photographs. I hope you enjoy it.