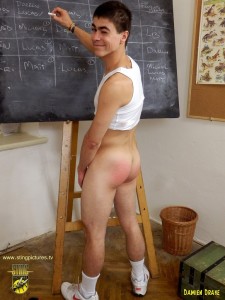 That most mischievous of Sting Lads – Damien Drake stars in "Detention", the latest addition to the Sting Members' Area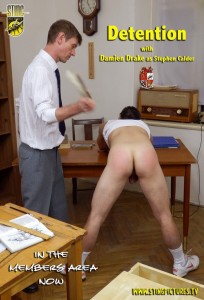 School Football captain Stephen Calder (Damien Drake) loves playing the beautiful game but like so many fans gets too excited during the game. Twice now he's lashed out at a rival player and this time has found himself sitting in detention. He'd rather be back out on the field but the only way to do that is to get Mr Collins, his House Master to punish him another way.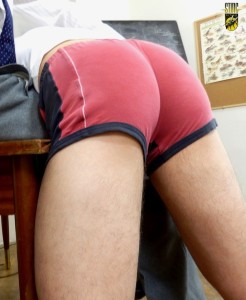 This time he's lucky or rather unlucky. The only way he getting out of it is with a good spanking and a dose of the empire rubber gym shoe. The red card will have to equal a red backside too. He's only wearing his PT kit and the spanking quickly tales effect over his tight shorts.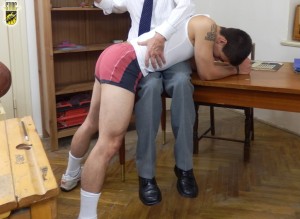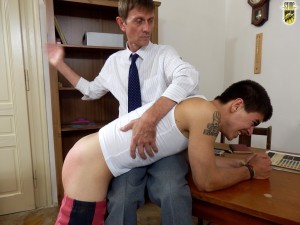 The shorts of course quickly come down and the hand slaps reign down like tongues of fire turning his muscular bare backside now as red as his shorts. .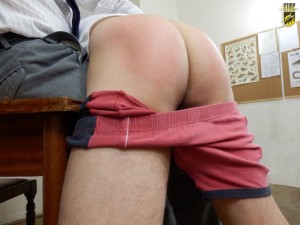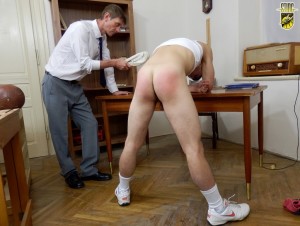 Mr Collins orders young Calder over the desk; he won't be escaping without feeling the burning sting of his well-used gym slipper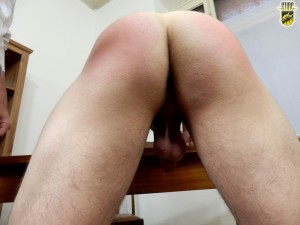 Crack after crack and Stephens exposed bottom is scolding hot, the sole of the gym shoe burning its way in to the lad's defenceless bare cheeks.

Stephen knows his temper may not hold but nevertheless its best perhaps to try to avoid this sort of Detention!