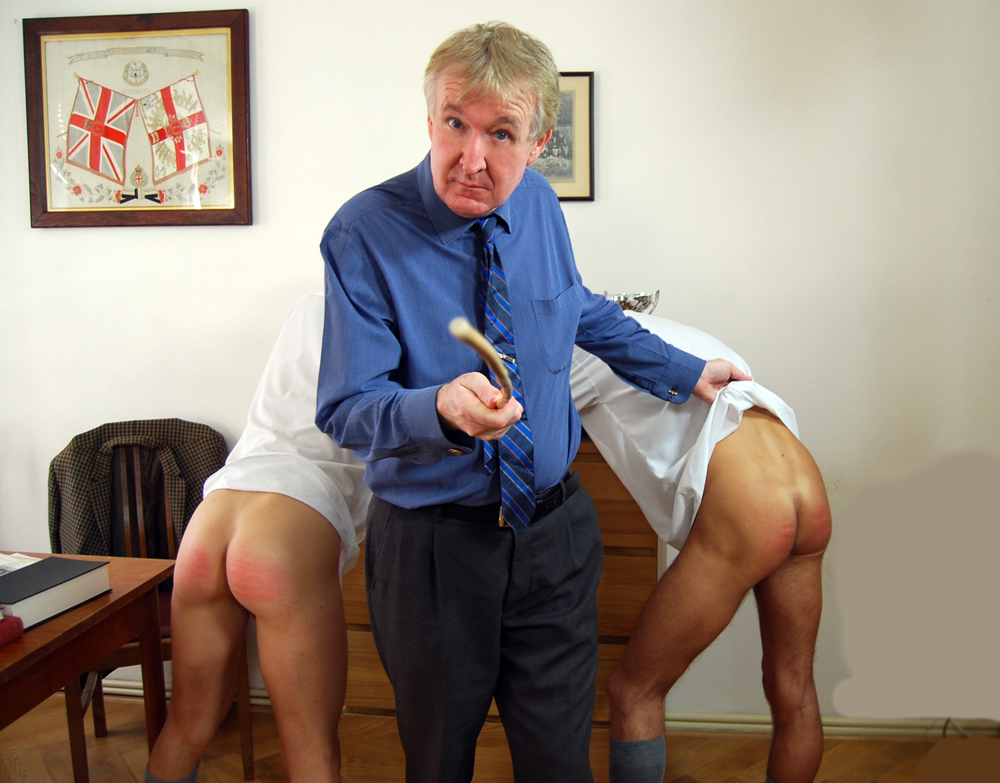 Richard O'Shea with Darren and Danny 
Hi Rich, thanks for agreeing to do a follow up to the fascinating interview you gave JockSpank back in February 2011. That interview created a lot of interest, both on and off line, and has generated a number of questions since it was published. I also understand that there have also been further developments with Sting since that interview.
You are now well established in the Czech Republic with new studios and a growing stable of actors. Are you still convinced that this was the right move for Sting? And do you expect to remain located where you are in the long haul? Are there advantages, and of course, disadvantages, to being located in Prague?
Answer – It was absolutely the right move. We were discussing this only last week and in five years we have not changed our minds one iota. There are numerous advantages but the main being that we are legal here. In the UK any spanking site is technically not legal. Any DVD content supplied in the UK without BBFC clearance is not legal. As our lawyer told us it's a very grey area, but at the end of the day it just isn't completely legal. We didn't really want that hanging over us like the sword of Damocles in day to day life. ATVOD too may soon become a concern but at the moment is unlikely to affect video on demand where adult content is concerned.
Unfortunately the UK stands alone in constantly pressing for adult content to be an "opt in" service which will eventually make it more difficult for end users to access the providers. However downloading spanking content, buying if from abroad on DVD and viewing it is legal! That's the UK for you!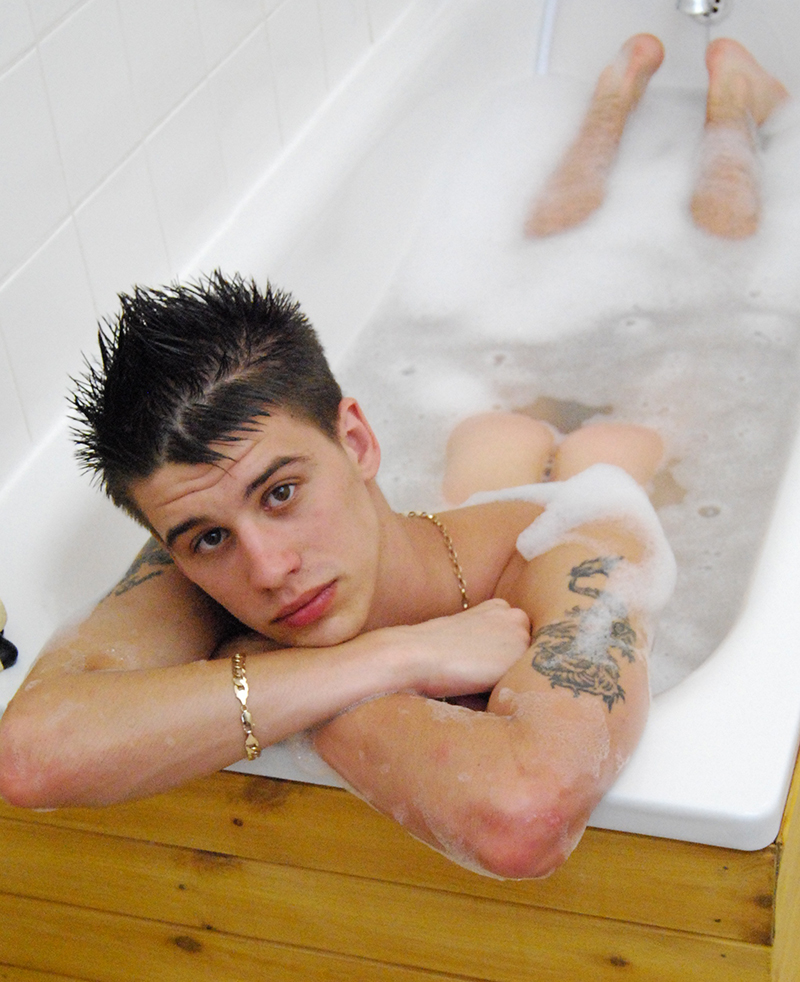 Matt Mills in the bath
On the downside we do miss the ability to work with English speakers which always helps with the dramatic part of our stories. I have to say the Czech models certainly make up for this in the way they perform.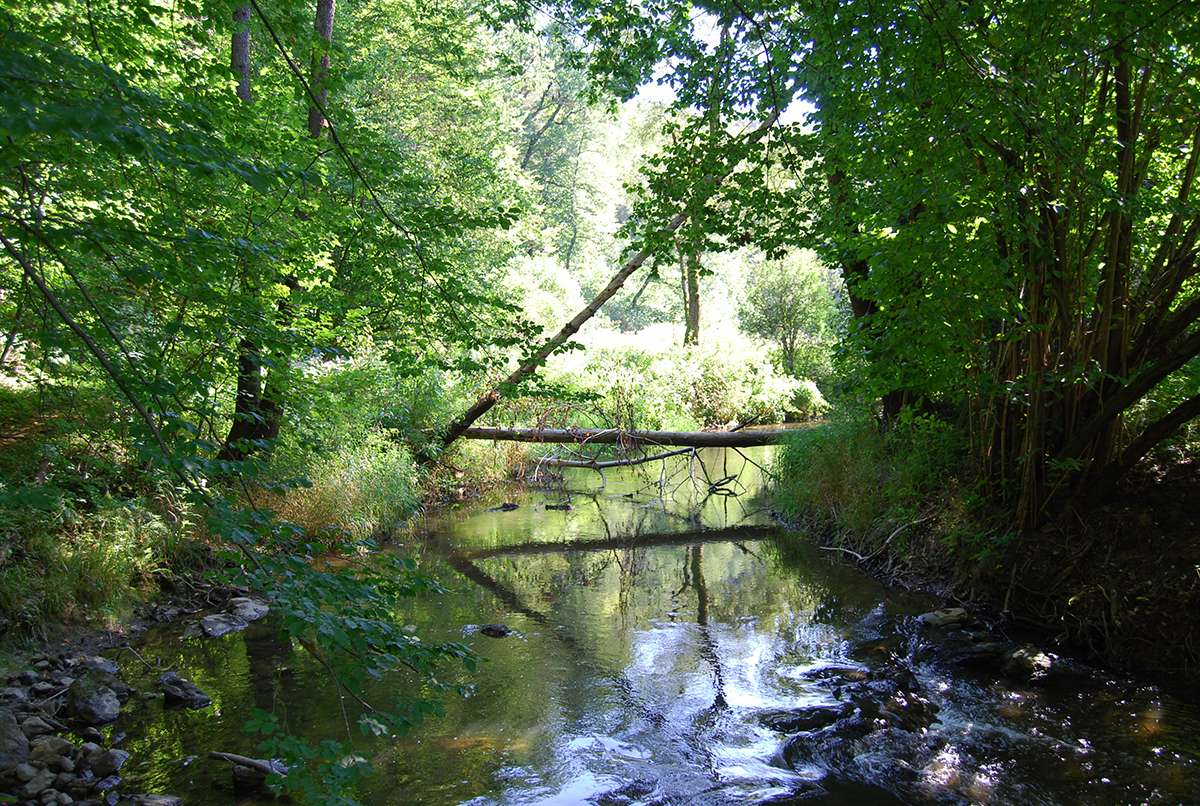 Sting's forest land
We have recently acquired a private outside location that is another good reason to stay put. Needless to say Prague is a beautiful and safe city with great long hot summer's thrown in. Both Rob and I would now miss that no end I think.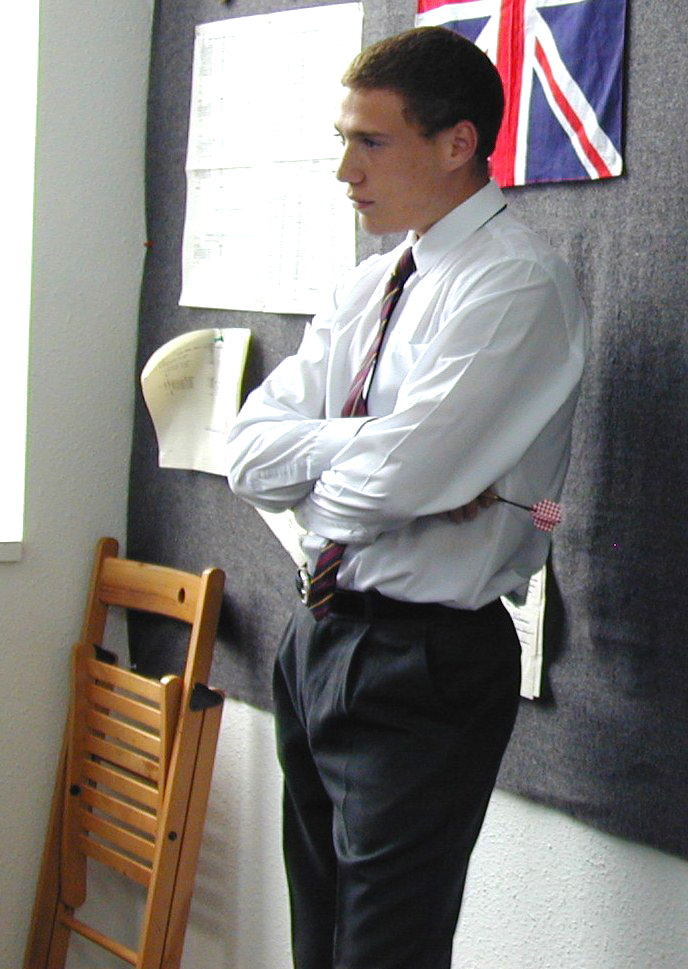 Can you please tell us about any recent developments and changes at Sting and what your plans are going forward?
Answer – We are about to have the web site completely rebuilt. We have opened STG Direct distribution and now supply several shops. That will be expanded to a wholesale website shortly. We are planning to return to mainstream film making but within the 18 certificate level, not 18R. To do this we now have taken on another employee at STG pictures. This mainly came about after making the adult film Secrets of College Life and several meetings with independent film distributors. Under Jonathan's direction an independent crew has begun working on the Sting stories. He has had three year's experience with both Rob and I so we hope for some fresh inspiration coming through with the short films. It is now hoped also to re-open the Sting member's area. Work has already begun on this.

Are there any future themes and storylines in the pipeline which you would like to tell us about?
Answer – Well after the recent blog activity modern story lines are being phased back in. Historically Sting really made its name with costume and retro based themes. This will continue, but the younger crew will shoot modern stories every now and again. We have collected a large amount of costumes for a new period drama but I can't go in to full detail about this yet. However, I can tell you nobody has ever done what we have in mind before.
 No Stars Just Stripes
The "No Stars Just Stripes" short was very successful, we weren't expecting this so we do plan to make a US military school story but won't move on it until we have the most accurate costumes so we can put together. In actual fact it will be based on a true story. We will also be shooting again with lads from Estonia and of course the legendary Margusta, who will in time have his own site for his brand of spanking clips.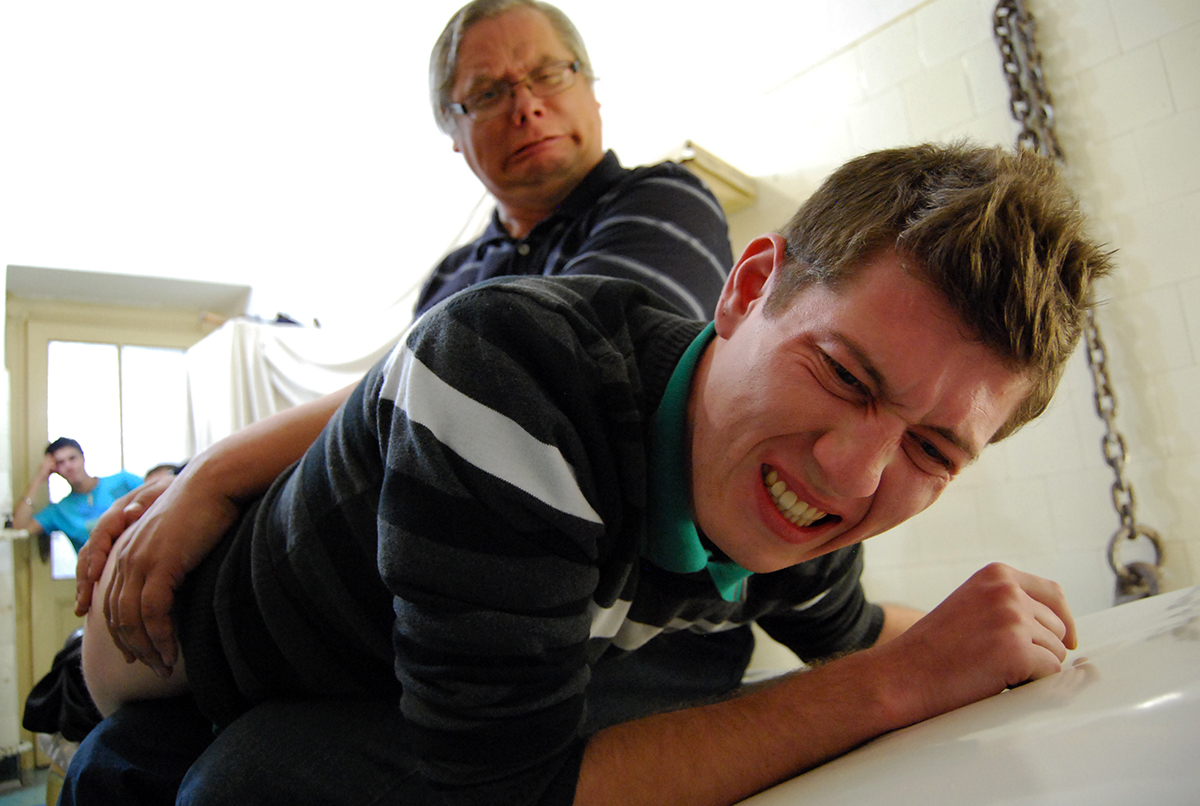 Toby Haines in a forthcoming modern story 
In the past Sting has focused largely on stories set in schools, reformatories and military institutions, mostly in England but also Australia and even Africa and the USA during the 1950's and 1960's plus, of course, the infamous 1900 House of Correction, do you plan continue with these historical themes?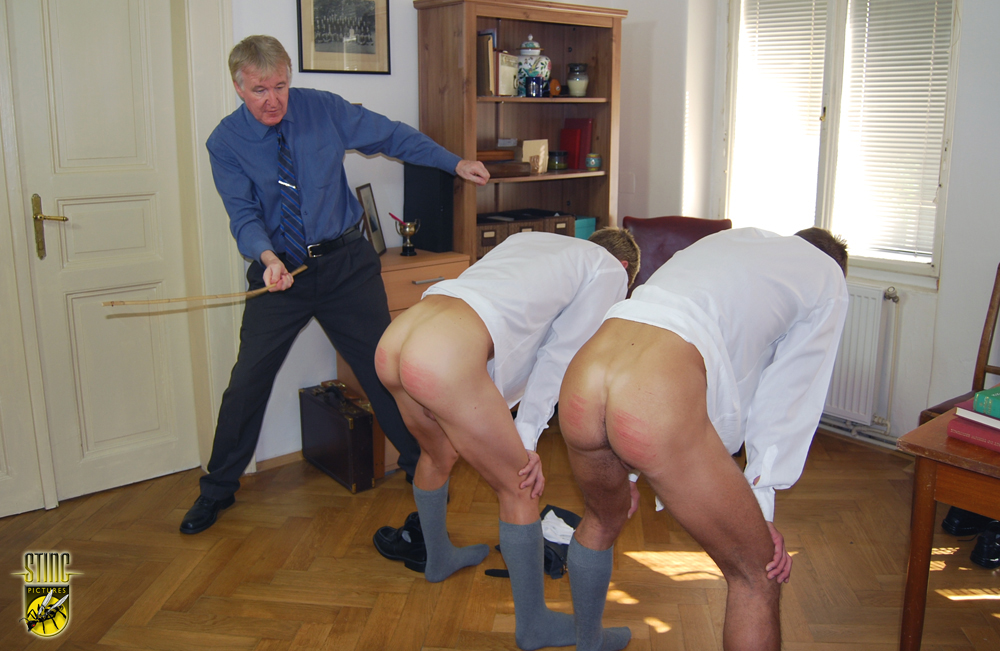 Answer -In our minds this is the real Sting, this is what we are known for. We are one of the only spanking studios doing this and made our name on it, so the answer has to be a very firm yes. However, as said above, we will be introducing more modern themes too. Meanwhile a new 1900 House Of Correction is in production.
I understand you hope to conduct filmed interviews with some of the actors and provide fans with more information about them?
Answer – Yes we will start to do this. I hope it will become part of the new members area output but we will put some on the blogs as well. It's mainly been time scales with production and lack of staff that have stopped us doing this. We would like to start doing 'making off' features too especially focusing on the full length DVD stories like St Dacthets Academy and Borstal Days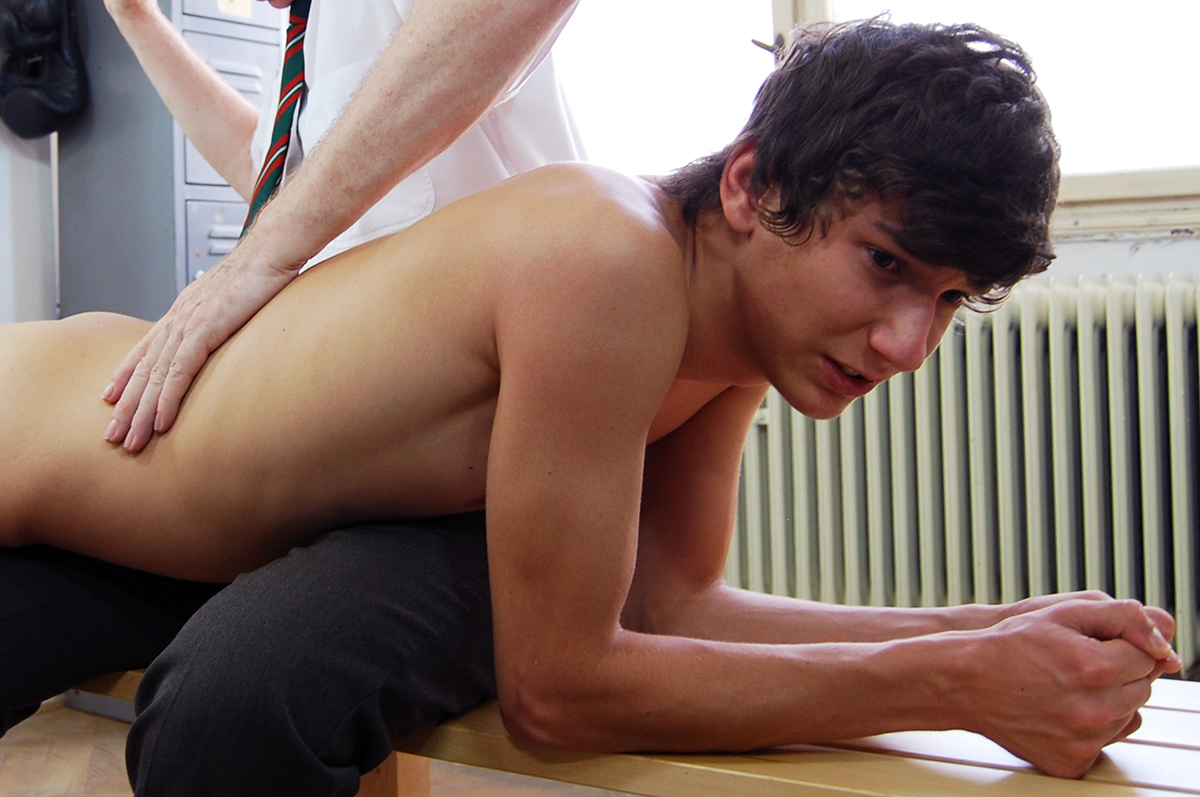 Pavel Novy
In recent movies we have seen the appearance of a number of younger, what one might call "Twink' actors mostly British lads, but also some Czechs such as Pavel Novy in "No Stars just Stripes", is this a deliberate change on Sting's part, or do you intend to continue catering for a variety of tastes?
Leonardo in No Stars Just Stripes
Answer – It's very difficult to please everybody, in fact it's nigh impossible and we have seen this in recent exchanges on Jockpank. I feel after all these years we have tried to have a go at most themes using hunks, twink's old and younger models.
In some ways I feel European studios do tend to ignore the American customers so we decided to shoot No stars Just Stripes and feature the paddle. We have had stories with paddle in before but we will increase the US themes if we can. The big budget Reformatory USA DVD was intended to do this too. As I said earlier more modern stories will be re appearing too. I am deliberately passing these themes on to the younger crowd here who I believe have some pretty interesting themes up their sleeves.
One question which frequently comes up is about the sexual orientation of the actors, and whether they are gay or straight, if some of them are straight how do they feel about making the movies they do?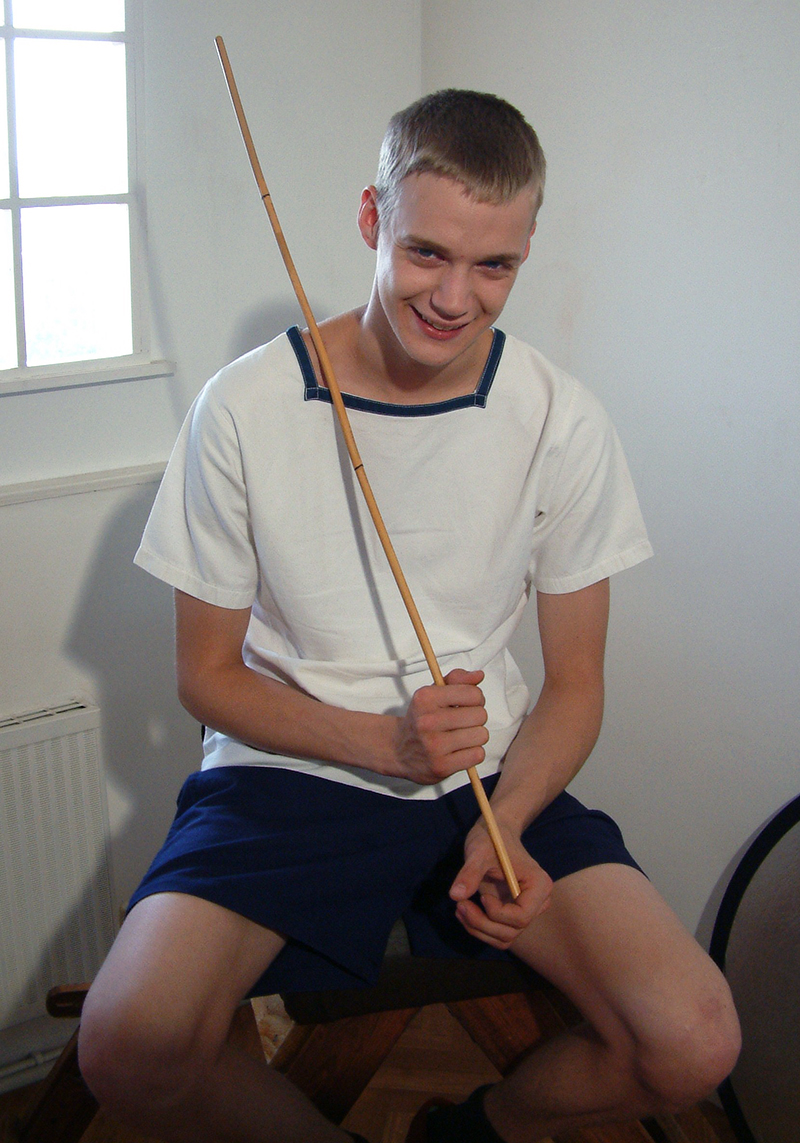 Tigger
Answer – In fact with the Czech boys it's not "some" of them it's practically all of them that are straight. When they do shoot an adult theme they are very much being 'gay for pay'. The lads from the new UK agency are mostly gay but certainly not all of them. Matt Mills, Tigger, David, Brett, and Paul etc. were all straight lads. In the Czech Republic the attitude is very different to that expressed by lads from the UK.
I very often have the girl friend sitting in our little green room doing her Facebook while the boyfriend is getting spanking in another studio nearby. I'm not sure what it is with the Czech models but I did discover that this country became the first officially atheist state during the communist years. Perhaps their attitude is the result of a lack of in built religious based guilt that we all have. We have thought about incorporating on screen girl friends in to the story lines, perhaps people could give us some feedback about this. It's certainly no trouble casting them.
Dexter in a forthcoming modern Story
When we spoke previously, you told us what your plans were for Hornet pictures, with the exception of "The Secrets of College Life" this does not appear to have proceeded, would you like to tell us where things stand with Hornet.
Answer – Hornet at the moment is on hold. This is mainly due to a plainly incompetent US web site builder. However after making the Secrets Of College Life we did review the Hornet idea. We will introduce Hornet in the not too distant future and it will probably support the 'with sex' spanking material that we produce. DVDs produced for shops do need to have a percentage of spanking related sex as standalone spanking is not as popular with shop bought DVDs.
   Margusta in a forthcoming modern story with a twist
It has been observed that you rarely respond publicly to comments on blogs and internet groups, is this a conscious decision, and, if so, what is your reason for this?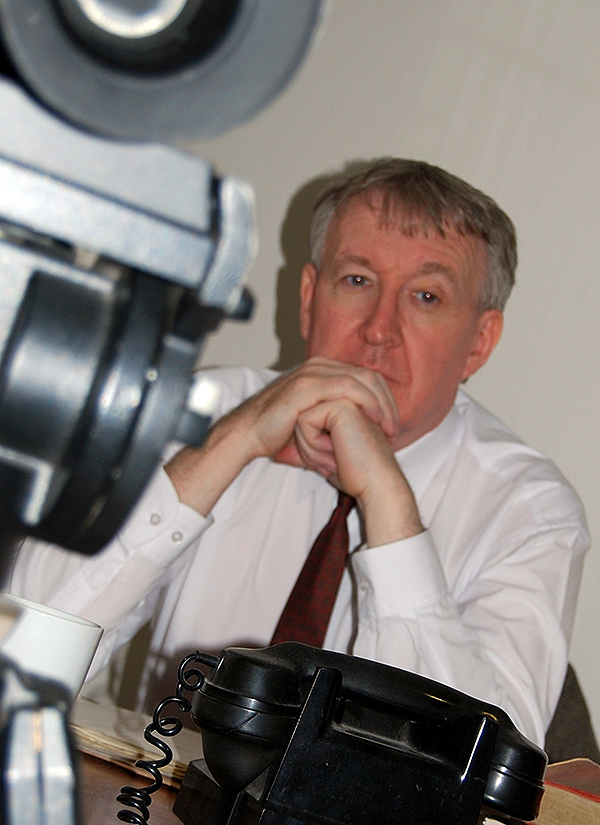 Answer – From the very beginning we decided on this policy. Having both come from the professional side of the film and TV industry its part of the tradition. It's best to let everyone have their say no matter how wrong they may be. Unless it's totally unfair criticism it can be a healthy thing, we don't really need to enter the fire fight. Many directors have to take it on the chin where film reviews are concerned but that doesn't mean to say that the particular criticism is right. Usually the criticism is based on one personal opinion and perhaps others have a very different opinion.
Some major features in the past that received bad reviews went on to be absolute classics. In the industry we have an old saying that all critics are failed film directors or writers, amazingly this is often the case. However I want to be absolutely clear on this we wouldn't want people to feel they can't approach us. Given the time we will always answer all letters and emails the best we can.
I think in the last five years I have put out only two public statements and that was to deal with a very unreasonable stalker. Lastly on this in fact we often don't need to comment as legions of Sting fans do it for us. One can only say a big thanks you for this it is very much appreciated.
Damien in a soon to be released French Country Story
Alongside Man Hand and Spank This Sting is one of the longest standing studios still operating. Is there any advice you would give to newcomers entering the market?
Answer – Well I think firstly I would say if its wads of cash you're looking for get ready to be disappointed, you won't be ordering your new BMW from the income. Spanking comes very much under the "special interest" or "fetish" category in adult film making and has a very small catchment. For us its only part of what STG Pictures Ltd do. The customers will rightly be demanding and won't settle for any old footage from a camera quickly purchased down the road at Dixons. Don't try to please everyone it's never going to happen.
I would also say you've got to absolutely love spanking, this will really show in anything you make. Try to specialise. In years gone by we have tried just about everything but I have noticed some of the new clip makers sensibly do look for a niche and that really is the way to go (Looking at some of the new guys Straight Lads Spanked with Mr X who for example appears to go for chunky guys, rugby types and I think that works plus there's "the hood", so that makes it a bit different. Just Magic's lads are great lookers especially of course the irresistible Jonathon and the settings are modern and clean with a few little sexy innovations thrown in. Spanking-boys.com has gone for a sort of prowler feel with a one on one personal approach so there too is something new.)
Film technique cannot be picked up just like that but luckily the modern camcorders are very forgiving. They react to virtually any available light source so point and shoot is now possible. Ten years ago none of this would have been possible as the cameras were not sufficiently powerful enough in image quality to produce saleable material. You had to use professional equipment and cameras to do this would have a price tag of around £10,000 or more. Lastly, take a real interest in film making, after all that's what you will be doing. It isn't really point and shoot and there's a lot to learn let alone the post production that goes with it.
I would now like to ask you some questions which have been submitted by Sting fans and customers:
The first set of questions come from Andrew who says he is a great fan of Sting, which is one of the best sites for production values. I think we have covered some of these points earlier in the interview, but you may want to elaborate
1) I understand Rich's previous comment about intensity of the punishment, (if we hit them as hard as teachers/prefects actually did, they would not work for us – paraphrased). True, though there must be some lads who would let you. Could you not try with some of the boys that featured in Discipline4Boys? They too were based in Prague. Some sort of `Intense' series, to parallel the sex one.
Marco taking a hard caning
Answer – Hi Andrew. I think it's fair to say times have changed since I made that comment and really it is only the first timers this applies to now. At Sting we do try to introduce models from across the board from hunks to twinks. New guys are often very nervous the first time they are cast to shoot especially just 18s from out of town. If you ease them in with a sensible session then they will always come back with much more confidence and far more ready to go for it harder the next time. They then develop from there.
.
Good looking guys for spanking, especially young looking are hard to come by and good model management of them is needed all the time. Films like Borstal Days 2, the Stingstruments series and a fair few others have very intense scenes. Retakes are not possible with the exception of camera movement. The lads from Discipline4Boys have long since moved on. Also, although we are in the Czech Republic they still have laws covering violence and bodily harm. If a studio over steps the mark they can (and have been) closed down. We like to keep within the guidelines of the law but at the same time we will continue to be a tough as we can and even more so on special occasions with willing models. In the UK this sort of material is of course 100% illegal.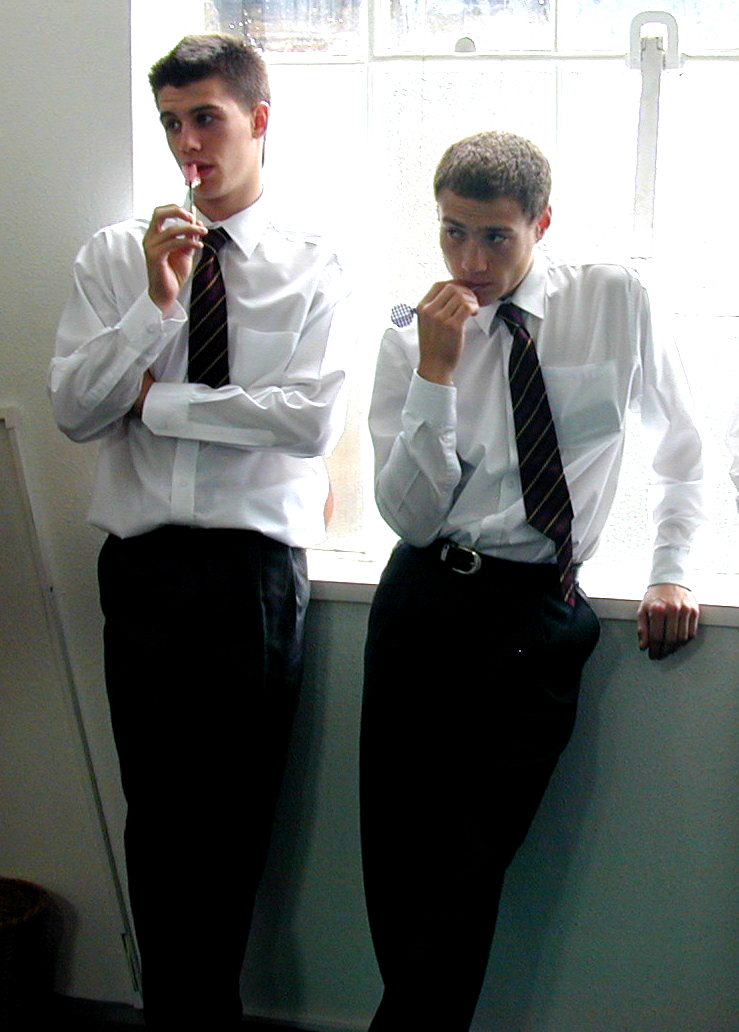 2) Have you still got plans for the site to have the extra features such as stories etc.? If so when will it happen?
Answer – Yes I think this may well be possible when we reopen the members area. I'm afraid I can't give an accurate time scale on this as I mentioned earlier due to troubles with our old host and site builder we are going for a total rebuild very soon.
Karl Frazer in a soon to be released French Country Story
3) I have always enjoyed the background stuff behind movie making. Might you consider doing the sort of thing Cliff at Spanking Central does, letting us know something about the models and the production process?
Answer – This is a very good point and one we have discussed recently. Again with the member's area coming back on line our second crew, who are all Czech, could well do this with subtitling to match. For the British lads who regularly visit this will be no problem.
4) Could we please have more Judicial CP, (the more realistic the better)? (Favorite scenario, the Birch) Along with this is a plea for less OTK spanking of such old boys! It never happened when I was that age!
Answer – Yes we are planning more judicial corporal punishment stories. With OTK spanking the problem I hit again here is pleasing all the people. I get just as many messages asking for older guys to be spanked. However, in some ways realistically I agree it is probably better seeing younger guys get spanked by older or more powerful guys. Of course the age a model can begin working legally is 18 so they are not all going to look like school lads I'm afraid.
.
Leonardo in 1900 part 6
The next question is from Anonymous, who asks: I suspect many men (regardless of their sexuality) respect firm but fair cp whether because of school/home discipline or jut the genuine release of tension and of `wiping the slate` clean. Have Rich and Rob ever considered providing an interview and punishment service eg: over a weekend or short stay?
Answer – It's an interesting idea but the difficulty would be finding the time really. Also we are and always have been just film makers in this business; it's where we feel most comfortable. However we would be happy to talk about sponsorship if anyone would like to do this here in CZ.

The next two questions are from Stan who says he really likes the Sting spanking clips, and have the complete selection. He adds Please tell them to keep up the great work. He asks: First, concerning the recent downloads entitled "Tales from the Headmasters Study" – are you going to release several of these in sequence, or in the near future, that would make a full length movie, if taken together? I put my downloaded clips on a DVD as they accumulate to free up space on my hard drive, and I am wondering if I can make a "themed DVD" from these.
Answer – Thank you Stan. The Headmasters Study began with a pilot. This was received very well so since then two more episodes have been made. We are now going to try to integrate an on-going plot with story lines and develop favourite characters that of course get up to no good all the time. Damien Drake is certainly starting to be one of these alongside Leonardo. The Heads study is a permanent set and yes we will be putting the whole series out as a full length film on to DVD.
Second, do you and Rob have any plans to visit the USA? I am sure your fans would love to meet you.
Answer  – We would love to visit the USA. I have been several times as part of a film crew both to Washington, New York and LA. However both Rob and I will at some point visit the fans and hopefully go to the famous camp Red Tails that happens annually.
Matt Mills
We also received a question from Swatter who says: The Sting website is not very user friendly and leaves much to be desired. It is not updated very often at all, other than to add the latest videos. I would like to see Sting abandon their current web site in favour of a blog similar to what Straight Lads Spanked and Jockspank and Leather Strap Spanking all have. From a good blog you can download both still pictures and purchase videos.
Rich has been making excuses for the website for years instead of fixing the problems or re-doing the site altogether. I would like to know what plans he has for improving the website in the future and what a reasonable time span for such changes would be?
Answer – Hi Swatter, you have been our most generous critic for many years and we love you for it, but now I'm going to agree with you! We have been stuck with the Sting site as it is for far too long and I am happy to tell you than we had a long meeting in Prague last week with a new European company who are (for a price!) going to undertake all our IT work. At the moment we are with a USA company who are, to say the least, useless. At this stage legally I can't name them but I wish I could and may well in the future. As to time scale the first site to be worked on will take about a month and is for the wholesale customers only.
After that the Sting site itself will be rebuilt from scratch. This will take considerably longer but it will be done. Another excuse I know but what more can I say at this stage. You may not have noticed but we do have this blog courtesy of Bruce and Ward. You can certainly download pictures from there and most of them are HQ stills with a few low quality screen grabs.
As to sales from the blog you can only integrate something like say PayPal and unfortunately despite what you may think they do not support adult material. They will after a while seize any funds they see collected from adult material sales at a moment's notice. There are no other processors we can use on a blog. We could use the famous Clips4sale but as a business their margin is far too high. So we are left with Epoch one of the biggest processors in the world but as we are not a membership site their system is no so good for film downloads. Alongside the rebuilding of Sting's site we have secured a new deal for processing and that will all come on line eventually. I have to say only a few people have trouble with Epoch and we try to deal with this as fast as we can. It's only at weekends when we sometimes dare to take a break that there is a slowdown. Mostly however we are around at weekends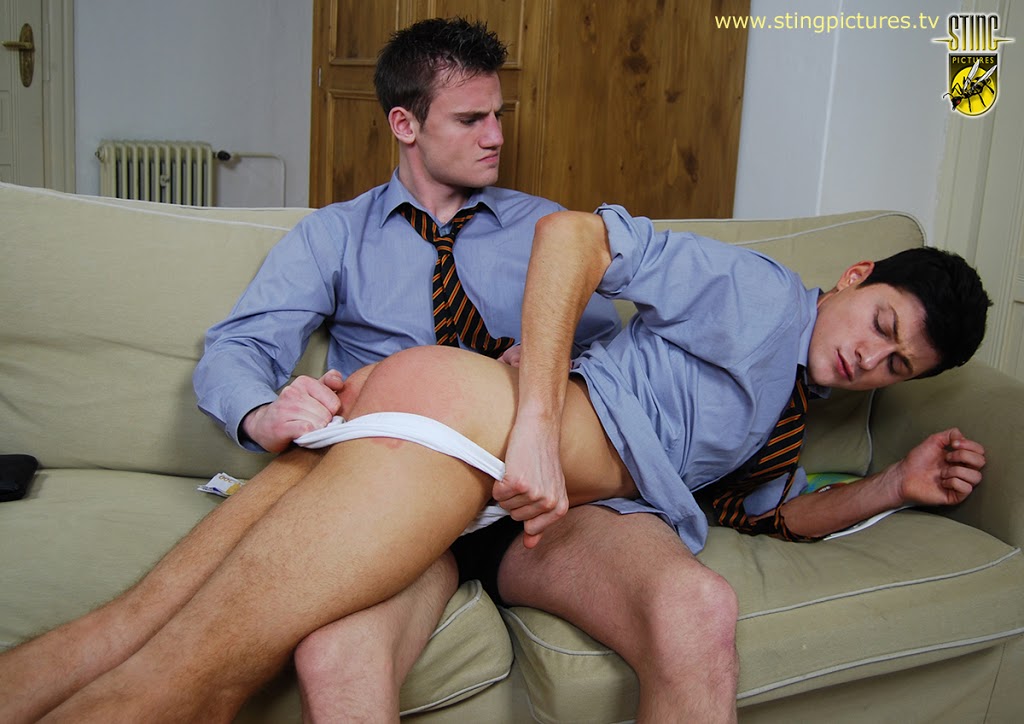 Next, Daniel asked: Would sting consider a scene where the boys spank one of the boys, maybe a senior prefect who has been abusing his authority, or just a bully in need of payback. They could grab him, tie him over the pommel horse, and let him have it. I love the discipline scenes, but a "revenge" scene would be hot too.
Answer- Absolutely yes. It is our aim to introduce new masters now both young and age 20s / 30s. I in fact would like to start to take a backseat and work on other new projects with STG Pictures Ltd. This process has started and during our Monday meetings the subject of boy on boy spanking has come up. So it's a case now of watch this space. I will try to have this idea implemented as soon as possible.
Anon2 asked: From your years of experience which implement do the actors dislike the most? Which one is the most painful? Which implement to you enjoy using most, and why is that?
Cane
Answer – The Cane. The guys really do not like it at all. There are the odd one or two who say a strap or tawse is worse but really it's the cane every time. As you ask it happens to be my favourite, only perhaps because I was caned at school in Great Britain. During those supposedly golden years of education we were taught to know our place. There is something about the melodic swish of the cane, its whippy consistency and appearance hanging waiting to be used. It is I believe an historically perfect instrument of correction. I guess guys in the USA would say the same for their famous paddle or hickory switch. Boy when I think back if they could see me now I'd be waiting outside my housemasters study for sure! Spanking films indeed, who do you think you are O'Shea Cecil B De Mille…bend over!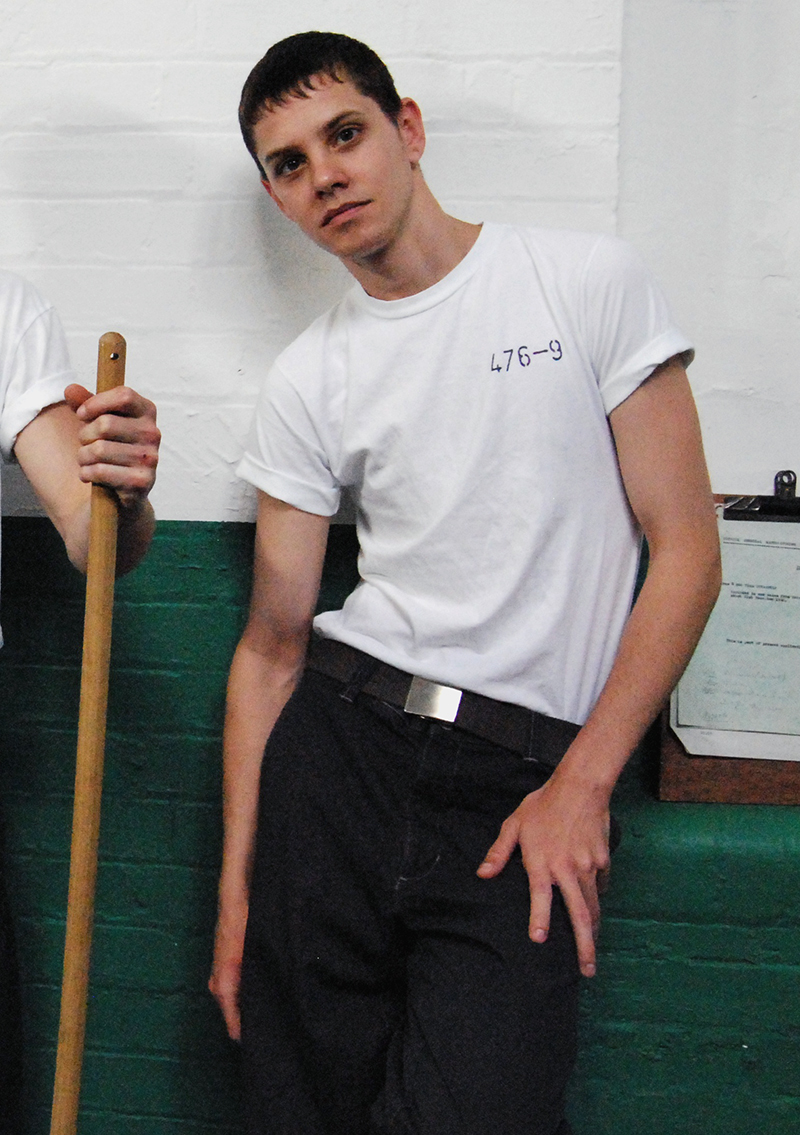 Vex
Next we have Frankie who's question was: Sting Pictures made its deserved reputation with models (and scenarios) from South London, and the punishments generally matched. (I used to live in that part of London, and recognised in David, Vex, Tigger and the others, the lads who attended – and were caned at – the local schools, as well as belted by their Dads; and showed off their stripes with pride in the changing room of the Boys' Club where I was a leader. I could tell many true stories about them!) Now that the business is in Prague and the models (? actors) are also increasingly Bohemian, would Rich consider branching out into punishments used in the new location? I think particularly of the "Korbac" which apparently resembles a French martinet, and which a Slovak acquaintance tells me was the traditional instrument of correction used when he was a kid. He says they are still available, and that Czech parents so far as he knows are still very ready to warm the backsides of misbehaving boys.
So how about some traditional Czech Chastisement, Rich?
Answer: Hi Frankie. I have very fond memories of our days in London as does Rob. Firstly in London at our Vauxhall studio and then in Barnet before our move to here. I remember the day I first met Tigger at our Vauxhall studio when he was shooting for clublads. He was with his friend David and after being introduced to me saying 'alright mate I'll give it a go', he went on to become one of Stings most famous models along with the other Southsider's and Essex boys, Brett, Vex, Jay, Matt Mills, etc. They were all just eighteen and as cheeky as you can get. Perfect for Sting.
Do tell me your stories one day; I may have a few for you! OK with the Czech instruments of punishment the answer is yes we will be doing this. We will also be shooting some stories completely in the Czech language featuring some disciplinary sessions as they might be and do still happen here. Your Slovak friend is right the PC nonsense hasn't quite reached here yet, long may it be so. The Korbac in Czech by the way is known as the Pomlazka

Finally James Maren asked: Do any of the Sting lads break down into tears spontaneously when spanked and cry? If so, which ones?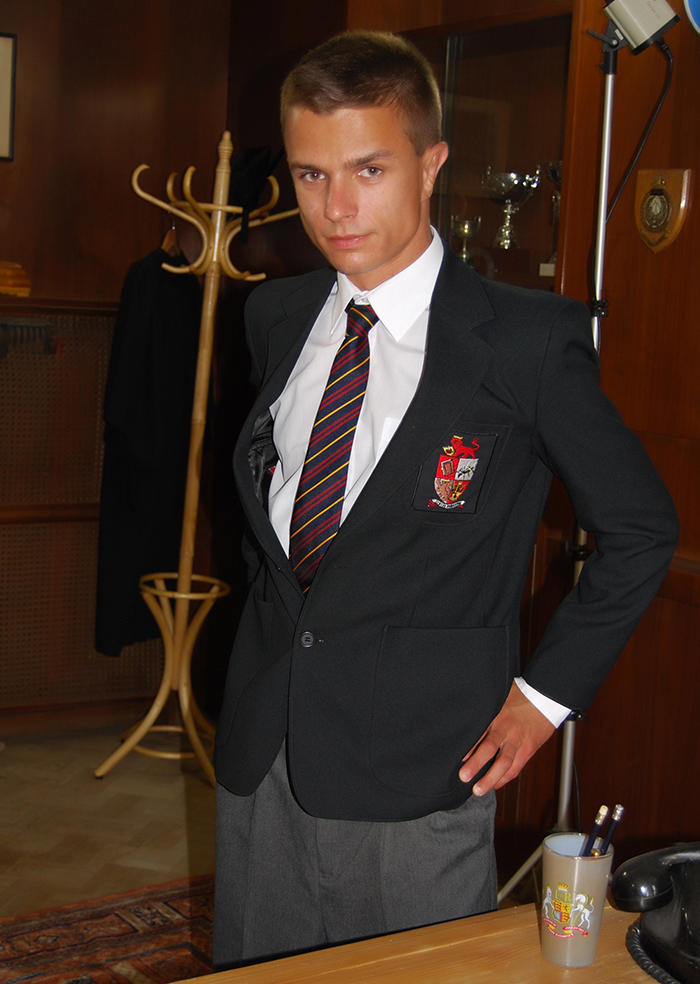 Answer – Yes they do but not many. Most Czech boys don't want to be seen to cry. Leonardo cries as does Sebastian but sometimes it's hard to catch.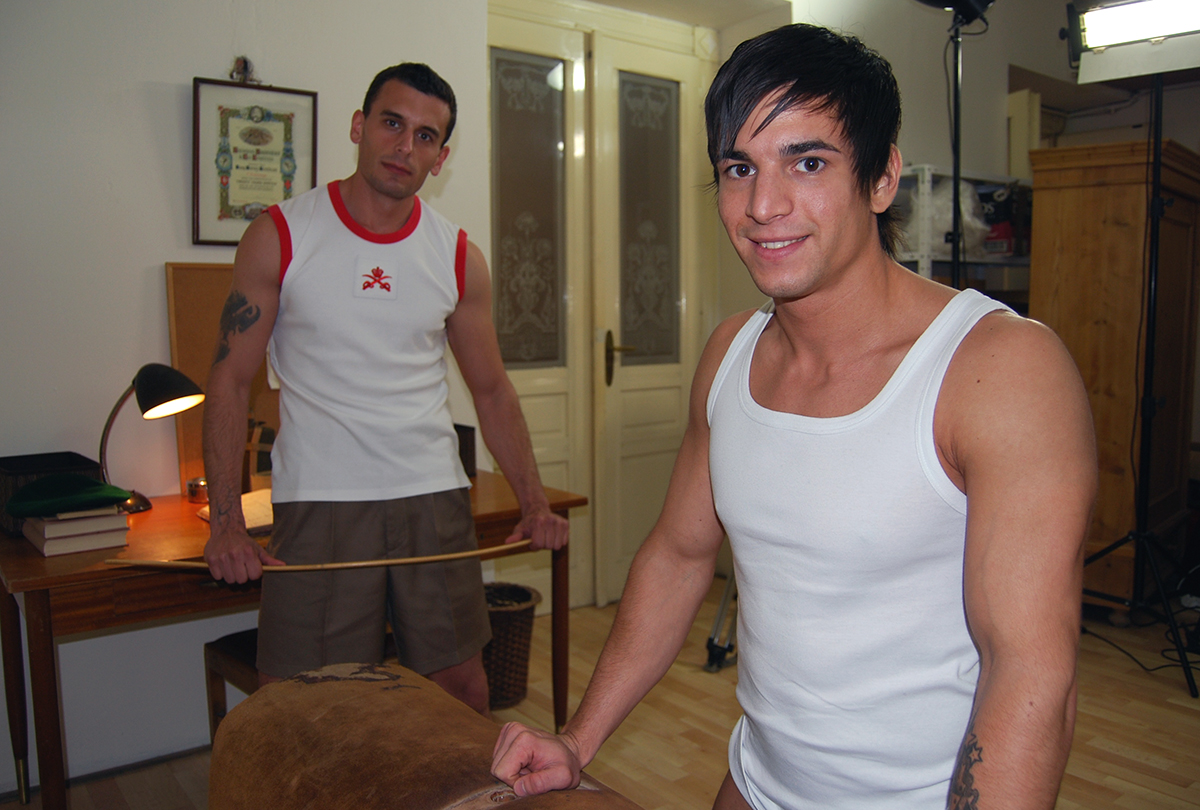 Sebastian – with Dexter
People often say hit them harder but in fact with some, especially Dale Brady, it doesn't get any better results and of course as we stated earlier there are limits.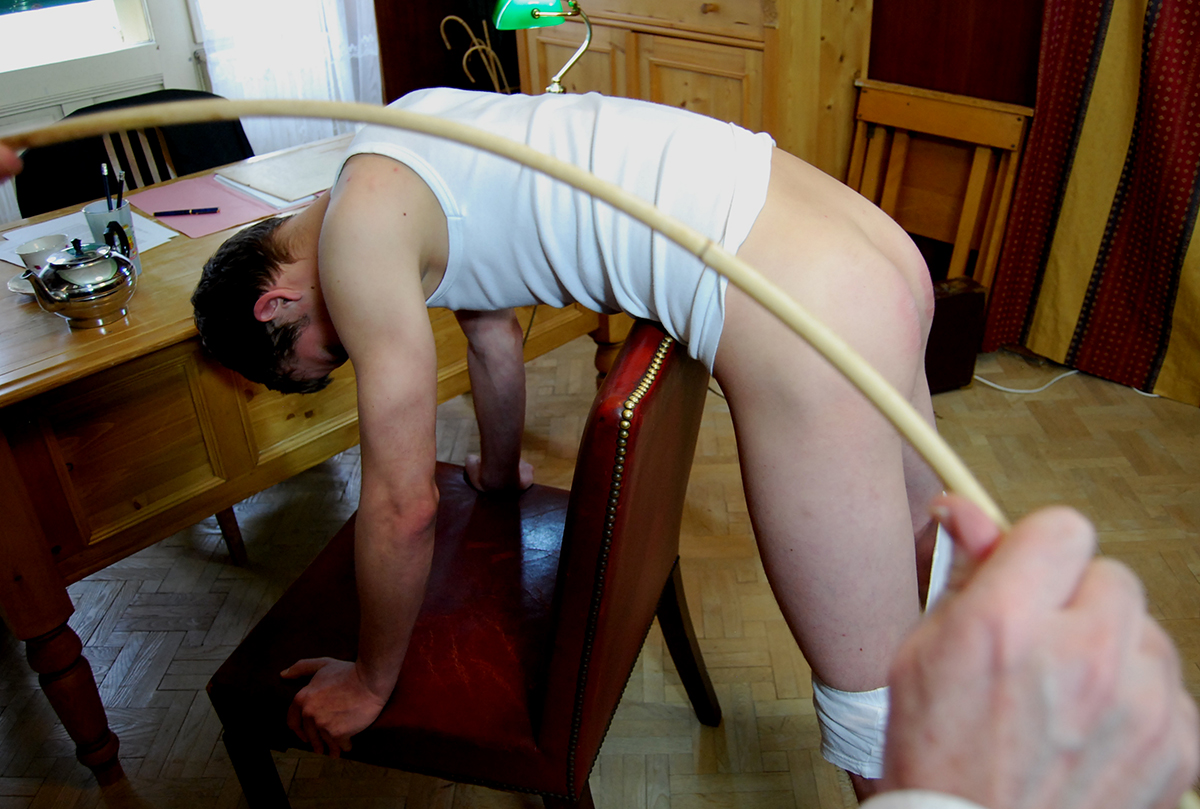 Stoic – Dale Brady
Thanks very much Rich, that concludes the questions from fans, and also this interview. Now you can get back behind the camera, as we are all looking forward to Sting's next release