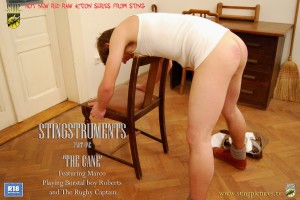 This December 2011 release was Part one of a series from
Sting
: Opening a new line in spanking entertainment
Stingstruments 
charts the wide range of punishment tools used in the Sting Pictures films plus some others. Starting with the cane and featuring seasoned Sting model Marco as Roberts.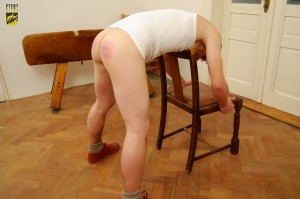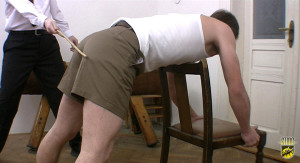 This hard hitting series gets straight to the point! Firstly as a Borstal boy he feels the biting sting of the crook handled senior punishment cane laid over Marco's tight khaki shorts…………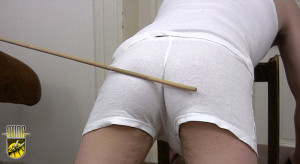 These soon come down and again, over his white briefs, a further set of burning strokes is well laid on.
Now it's time to bare his already inflamed bottom to feel the stingy whip like straight rattan cane cracking in to his well-rounded backside.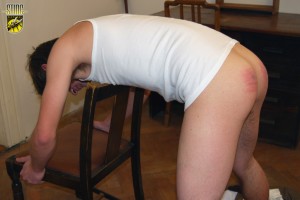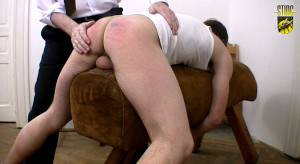 No Borstal punishment would be complete with a good spanking. Now straddled across the gym horse a long stinging spanking is applied to his already stripped bare bottom. Bucking and twisting Roberts rides the horse as the officer's burning hand slaps rain down!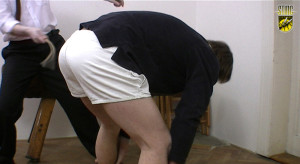 Next playing a college rugby captain Roberts is ordered to touch his toes in the traditional manner. Again the punishment cane cracks across his rugby shorts.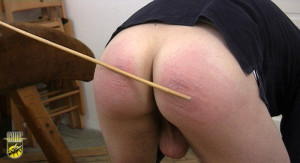 Ordered to take them down and re position, the the whippy thin rattan will now be brought down hard on Roberts well-presented and defenceless bare bottom. He growls and gasps his way through the final strokes, his backside now stripped, blazing and raw.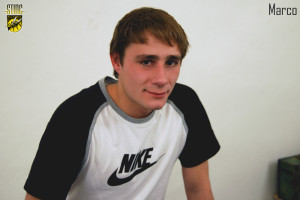 The very resiliant Marco
Links