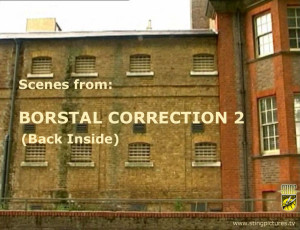 While we all enjoy our lives, making the best of our freedom and liberty, doing what we want when we want and going where we please, spare a moment to think of those bad boys who, on account of their misbehaviour and antisocial actions found themselves locked in institutions where they were not able to enjoy themselves.
Remember those young men who were subject to the strict discipline of firm older men with firm hard hands. Older men who would order them to drop their pants and lay their hunky young bodies across their laps, or bend, bare bottom uppermost, over gym horses to receive punishment for any number of misdemeanors.
As you sit tucking into your festive meal, remember those young lads for whom sitting was not so easy. For them, sitting down had become most uncomfortable, on account of the fact that their firm, pert and very bare young tails were regularly toasted to a warm cherry pink glow by firm hand spankings, stinging slipperings, painful canings, severe birchings and, of course, the strap.
These bad boys did not get to enjoy their day, but when you think of them remember that they are bad boys and that they deserved every smack, whack and humiliation. Don't feel sorry for them, they are only getting their well overdue comeuppance, right at the seat of the problem. Enjoy that thought, and have a great day.
To help you enjoy the thought, here are some scenes from "Borstal Correction 2 (Back inside)"