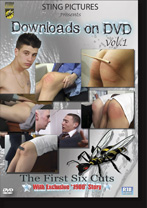 Paul's Bad Report
featuring Sting superstar Paul, who appeared in many of the original Sting films including 'Grey Shorts'. In this short story he plays Davies, a young miscreant recalls his scrapes with discipline both at college and afterwards having been sentenced to a spell in a reformatory. As he sits once again in police custody the arresting officer reads through his past records and the punishments received for continually breaking the rules. This short story has been put together with much unseen material never brought to the screen due to irreparable damage of a master tape. Now restored by the editor for viewing this is some of the last footage available of Paul in action. (images from on of the scenes in Paul's Bad Report can be viewed
here
)
Borstal Correction
takes us back several decades in time to see Brett, Tigger and other Borstal reformatory inmates feel the sting of the cane, strap and of course a good spanking.
Delivered By Hand
lives up to its title with a hot session of spanking punishments laid on to both handsome model Matt Mills and the rest of the cast. For those who love hot OTK sessions and hand delivered spankings this is a must. (Images from one of the scenes in Delivered by hand "Shooting the Messenger" staring Matt Mills can be viewed
here
) This is followed by…
The Bully
. Student David runs foul of the college bully played with vigour here by Sting model Nasher. After getting young David in to trouble and a hard spanking Nasher himself is discovered and given a stinging caning with the heavy senior cane across his firm bare backside.
Approved Education
takes a look at the now famous Approved Schools. Sentenced to time inside Harry and Ginger come face to face with the harsh realities of correctional discipline. Spanking, tough caning and strapping are just some of the methods used at this harsh institution. Inflamed action from beginning to end. (Images from Approved Education 1 can be viewed
here
)
Stick And Stones
follows the fortunes of students Anderson and Ginger two college lads on the look out for trouble. After a window smashing debacle both lads have to face Dr Barton the college's intolerant principle. He and the deputy head waste no time to instil some much needed disciple in to the lads. The crack of the cane and slipper not to mention the firm spankings are all featured here.
In addition this DVD includes a previously unreleased bonus scenes featuring James B, Damon, David and a rather scary looking birch in a scene set in the 1900 House of Correction
Here are some images from the bonus scene