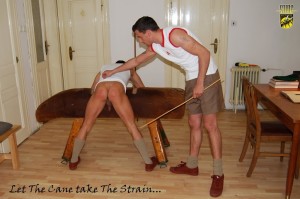 Here are some more pictures from the special length download (47.5 minutes)
"Let the cane take the strain"
Storyline: The rattan cane is probably the most famous of all the punishment instruments. In part one of this drama documentary Sting Pictures takes a look back at the early years of its use and follows through to the 50s and 60s.
The film opens in a 1900 House Of Correction where inmate Johnson (Carlos Fernandez) is summoned to be punished by his Warden. First a good bare bottom spanking followed by a caning face down on the pine scrub top table. He yelps his way through the punishment as different canes are selected. The idea for this sequence is based on an old photo of the period.
Next Robbie features as Naval Training Ship cadet boy seaman Heath up on a charge and sentenced to receive traditional 'cuts' of the cane both in tight white naval ducks and on the bare breech. Stoically, like most young cadets, he takes his punishment well.
Moving on in time and down under senior student Hargreaves (Dexter) reports to his house master for late night bullying in the dormitory. Dressed in his pyjamas he gets a long hard spanking and is then told to report back the next day in sports kit for the cane. He has been warned many times but perhaps further 24 strokes of this stinging rod with help him to behave.
Next featuring a 1950s public school environment David McCullock (Matt Mills) reports to his house master for a caning. McCullock's smooth backside bucks and twists as the biting cane connects with his blemish free bare bottom. After this and to make sure the lad fully understands the master delivers a firm hand spanking!
Now it's a visit to a 60s Borstal where inmate 43567 Simmonds (Andreas) is receiving a punishment caning from gross misbehavior. His house officer (Margusta) makes sure the strokes are carefully and well laid on!
In a junior soldiers battalion young junior leader (Sebastian) reports to receive punishment from the Physical Training Instructor (Dexter) in typical army style he is commanded by the PTI to strip, mount the horse and receive 24 cuts of the cane. Legs well apart and bend right over this muscular young squaddie will think again before being brought up on a charge! This feature is part one of a series and will be followed by other stories of masters who much prefer to let the cane take the strain!