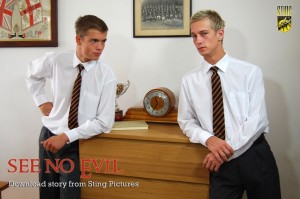 Danny and Darren
"See No Evil" stars Darren, Danny, Ed Williams and Danny Walsh.
In this story someone takes and drives the Geography Master's car without permission, leaving it with a nasty dent. The school question two of the junior boys seeking the identity of the culprits, who will not be sitting down for a while after they are caught.
This is a brilliant Sting production, well acted, hot action and stunning looking guys. Also, "See no Evil" will dispell the myth that Danny can't take the cane, he takes it, but he just doesn't like, (at all!!) and you will just love his reaction to it. I highly recommend this download.