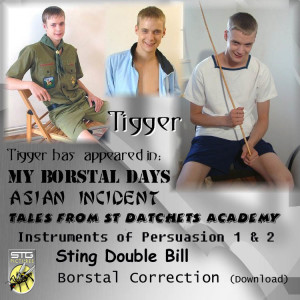 One of the cutest, and certainly one of the most frequently spanked of all the Sting lads is Tigger
. Certainly only Brett
, and possibly David, have spent longer upended over and authority figures knee or bending over a gym horse, punishment frame or school desk. Tigger has an eminently spankable little bottom, which has been well and truly spanked on many occasions.
Tigger started modeling for Clublads at the tender age of 18 and appeared in a number of their early spanking shoots. He quickly graduated to to becoming one of Sting's most regular and popular actors, and has so far appeared in six Sting movies, and at least one download:
Hopefully he will appear in many more, as who among us will ever get tired of seeing Tigger getting his little bottom warmed by a firm hand, slipper, cane, strap or birch?
Over the next couple of days I plan to post a couple of sets of pictures showing Tigger in some of his memorable appearances for Sting and Clublads. However, meanwhile here are a series of images featuring just a few of Tigger's many sting appearances, and others just showing the irrepressible Tigger, surely one of the most delightful of Sting's actors.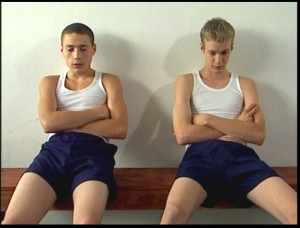 Tigger often appears together with his real life best buddy David, this mischievous pair have received many a spanking on film
Links: