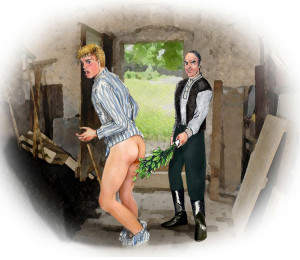 The Instruments of Persuasion DVD cover was illustrated by Jonathan
Whereas the also superb
Instruments of Persuasion Part 1
was an examination of the more commonly used implements used to inflict punishment on the Male bottom. Instruments of Persuasion Part 2 looked at more exotic and unusual ones.
This video includes young Tigger as a young soldier
receiving a taste of the riding crop
, whilst spread legged over a saddle, Matt Mills being "figged" with a fiery plug of raw peeled ginger up his anus before a hard over the knee spanking, David bending over for a dose of the French Martinet, Vex receiving a triple rodded "Triad"caning, Bary and Mark receiving a Guernsey birching and, of course, the infamous
nettle birching
scene, where handsome Jay ends up with a well "stung" behind, together with more innovative devices and a bonus
selection of spankings
.
Instruments of Persuasion Part 2 was nominated for a GAYVN award in 2009.